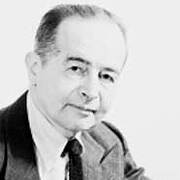 Erich Auerbach
(1)
(1892–1957)
For other authors named Erich Auerbach, see the disambiguation page.
Common Knowledge
Canonical name

Birthdate

Date of death

Burial location

Gender

Nationality

Birthplace

Place of death

Places of residence

New Haven, Connecticut, USA
Princeton, New Jersey, USA
State College, Pennsylvania, USA
Istanbul, Turkey
Marburg, Hessen, Germany

Education

University of Greifswald (Ph.D|1921|Romance Languages)
University of Heidelberg (Dr. Phil|1913|Law)
Französisches Gymnasium

Occupations

Relationships

Organizations

Yale University
Institute for Advanced Study
Pennsylvania State University
Istanbul University
University of Marburg
Prussian State Library (show all 7)
German Army (WWI)

Awards and honors

Short biography

Erich Auerbach was born to a Jewish family in Berlin. After serving in the German military in World War I, he earned a doctorate in philology at the University of Greifswald. He was the librarian at the Prussian State Library and in 1929, joined the faculty at the University of Marburg. He published Dante: Poet of the Secular World (1929), which is now considered a classic. He became one of the best-known philology scholars and comparative literature experts. Dismissed from the university by the Nazi regime in 1935, Prof. Auerbach fled to Istanbul, Turkey. There he taught at the Turkish State University and completed his masterwork, Mimesis: The Representation of Reality in Western Literature (1946). He wrote most of it from memory because he had been forced to leave his papers and books y behind in Germany. In 1947, he moved to the USA, taught at Pennsylvania State University, and was a member of the Institute for Advanced Study in Princeton, NJ. He was appointed Sterling Professor of Romance Philology at Yale University in 1950, a position he held until his death.

Other works included Literary Language and Its Public in Late Latin Antiquity and in the Middle Ages (1958).
Statistics
Works

24

Also by

4

Members

3,019

Popularity

#8,457

Rating

4.1
Reviews

19

ISBNs

98

Languages

17

Favorited

2

Touchstones

19