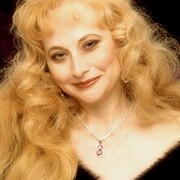 Common Knowledge
Legal name

Birthdate

Gender

Nationality

Birthplace

Places of residence

Education

Relationships

Organizations

Awards and honors

Short biography

Mary Rebecca Wadsworth was born on March 4, 1955 in Knoxville, Tennessee, where she lived and then, later, Chattanooga for the first few years of her life. After that, the family moved to Kansas, where she grew up, spending the summers in her grandparents' home in Alabama. She has two sisters, Mimi and Nancy, and two brothers, Thomas and Daniel. Her mother, Beverly, remarried with Verne, and she won a step-sister, Chrissy. Rebecca married very young with John Brandewyne, and they had a son, Shane, who was born, appropriately enough, on St. Valentine's Day.

Excellent student, she graduated cum laude with departmental honors from Wichita State University, earning a B.A. in journalism, minors in history and music, and an M.A. in communications. She obtained among several other distinguished instructors, three Pulitzer Prize-winning journalists, one of the foremost authorities in the field of interpersonal communication and two Victor Murdock Scholarship. Rebecca taught interpersonal communication at the University level before becoming a published writer.

She sold her first novel some months after her twenty-third birthday, making her, at that time, the youngest romance author in America, a record that stood for ten years before finally being broken. To date, Rebecca has written over thirty consecutive bestselling titles, including novels and novellas on the following lists: New York Times, Publishers Weekly, USA Today, Los Angeles Times, Magazine & Bookseller, Ingram, B. Dalton, and Waldenbooks, among many others.

Rebecca lives in the U.S. Midwest with her son, Shane and her second husband, Englishman John Cox.
Statistics
Works

52

Also by

4

Members

1,855

Popularity

#13,874

Rating

3.5
Reviews

12

ISBNs

178

Languages

10

Favorited

2