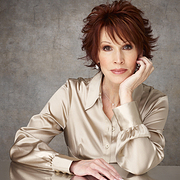 Common Knowledge
Legal name

Other names

Birthdate

Gender

Nationality

Birthplace

Places of residence

Education

Occupations

Relationships

Awards and honors

Romance Writers of America (Lifetime Achievement Award ∙ 1998)
RT Career Acheivement Award
Distinguished Literary Achievement Award (B'nai Brith)
ITW Thrillermaster (2008)

Agent

Short biography

Sandra Brown is the author of over 70 published novels, including 57 New York Times bestsellers. She lives in Arlington Texas.


Sandra Lynn Brown, (born March 12, 1948) is an American bestselling author of romantic novels and thriller suspense novels. Brown has also published works under the pen names of Rachel Ryan, Laura Jordan, and Erin St. Claire.

Sandra Brown was born in Waco, Texas, and raised in Fort Worth. She majored in English at Texas Christian University (TCU) in Fort Worth, but left college in 1968 to marry her husband, Michael Brown, a former television news anchor and award-winning documentarian, for Dust to Dust. They have one son, Ryan.

After her marriage, Brown worked for KLTV in Tyler as a weathercaster, then returned to the Dallas-Fort Worth metroplex area where she became a reporter for WFAA-TV's version of PM Magazine.

Brown started her writing career in 1981 after her husband dared her to. Since then, she has published nearly 70 novels and had more than 50 New York Times bestsellers. In 2008, she was presented with an honorary doctorate of humane letters from her alma mater, TCU.

Her novel French Silk was made into a movie, released in 1994, for television. Susan Lucci, Shari Belafonte, and Lee Horsley starred. In 2016, her novel White Hot was turned into a Hallmark Movies & Mysteries Original movie titled, Sandra Brown's White Hot.

In 2007, she contributed to Court TV's series Murder By The Book, about the murder of Betty Gore in Wylie, Texas, on June 13, 1980.

Her book Seeing Red was published on August 17, 2017.

In August 2018, her new book Tailspin published by Grand Central landed at #7 on The New York Times bestsellers list.
Statistics
Works

175

Also by

16

Members

60,456

Popularity

#240

Rating

3.6
Reviews

1,087

ISBNs

2,565

Languages

30

Favorited

102