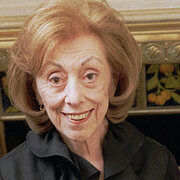 Hortense Calisher
(1911–2009)
Common Knowledge
Canonical name

Birthdate

Date of death

Gender

Nationality

Birthplace

Place of death

Places of residence

Education

Occupations

Relationships

Organizations

American Academy of Arts and Letters (Literature, 1977| President, 1987-1990)
PEN (president, 1986-1987)

Awards and honors

Guggenheim Fellowship (1952, 1956)
American Academy of Arts and Letters Academy Award (Literature, 1967)

Short biography

Hortense Calisher was born to a Jewish family in New York City. She attended Hunter College High School and graduated from Barnard College with a major in English and a minor in philosophy. It was the height of the Great Depression, and she went to work for the New York Department of Public Welfare as a social worker. In 1935, she married Heaton Heffelfinger, an engineer, with whom she had two children. She won an O. Henry Award for her first published story, "The Middle Drawer,"which appeared in The New Yorker in 1948. Three years later, she published her first book of stories, In the Absence of Angels, which established her reputation. She won two Guggenheim Fellowships (1952 and 1955), and in 1956–1957, became an adjunct professor of English at Barnard College. This was the first of more than a dozen adjunct or visiting professorships she held. In 1959, after a divorce from her first husband, she remarried to fellow writer Curtis Harnack. Her first novel, False Entry, was published in 1961. She produced a total of 23 novels and short story collections
during her career, as well as several memoirs, including Herself (1972), a mix of reminiscences, essays, reviews, and musings. Her best-known book is Sunday Jews (2002). She was elected to the American Academy of Arts and Letters and became its second female president in 1987.
Statistics
Works

32

Also by

27

Members

603

Popularity

#41,679

Rating

3.7
Reviews

7

ISBNs

72

Favorited

2

About

1

Touchstones

19