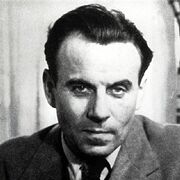 Louis-Ferdinand Céline
(1894–1961)
Common Knowledge
Canonical name

Legal name

Other names

Birthdate

Date of death

Burial location

Gender

Nationality

Birthplace

Place of death

Cause of death

Places of residence

Education

Occupations

Organizations

Awards and honors

Agent

Short biography

Louis-Ferdinand Céline, Pseudonyme de L.-F. Destouches est un romancier, pamphlétaire et médecin français parmi les plus diffusés et traduits dans le monde (après Marcel Proust), notamment avec son oeuvre majeure "Voyage au bout de la nuit".

Il naît le 27 mai 1894 à Courbevoie, en région parisienne, au sein d'une famille de petit commerçants. Ses parents déménagent à Paris et il effectue des études assez courtes. Il est apprenti bijoutier à 16 ans puis joaillier à Nice avant de s'engager pour trois ans dans l'armée française en 1912. Combattant lors de la 1e guerre mondiale, il est blessé en 1914 puis décoré pour ses faits d'arme de la Médaille militaire et de la Croix de guerre.
Réformé en 1915, il trouve un emploi de surveillant de plantation en Afrique avant de revenir en France, s'installer en Bretagne, passer le Baccalauréat en 1919 et poursuivre des études de médecine à Rennes en 1920 puis à Paris de 1922 à 1924, année ou il est diplômé. Commence alors une carrière de médecin avec des alternances entre cabinets privés et institutions publiques qui lui permettent de voyager.

En 1926, Après un premier mariage avec Edith Follet (1919-1926), Céline rencontre la danseuse américaine Elizabeth Craig, l'amour de sa vie. Il l'épouse la même année avant d'en divorcer en 1933. En parallèle, Céline écrit et atteint un succès considérable avec "Voyage au bout de la nuit" (1932) dédié à Elizabeth et primé par un Renaudot. Sa notoriété est alors fulgurante. En 1935, il épouse Lucie Almanzor (dite Lucette), une autre danseuse. A partir de la fin des années 30, des écrits, propos et pamphlets - malgré la qualité littéraire de la plus grande partie de de son oeuvre - divisent et finiront par discréditer pour longtemps toute l'oeuvre. En effet, Céline avec Bagatelles pour un massacre (1937), L'Ecole des cadavres (1938) et Les Beaux Draps (1941) fait montre d'un profond antisémitisme qui l'amène à devenir pro-nazi.

Pendant la 2e guerre mondiale, Céline va encore plus loin. Il soutient la collaboration et est publié dans les journaux de propagande d'extrême droite.
En 1944, Céline se réfugie en Allemagne puis au Danemark. Un procès pour faits de collaboration est ouvert. il est mis au ban des accusés, condamné d'abord à la peine de mort par contumace puis à l'indignité nationale en 1950 avant d'être amnistié en 1951. Il revient alors en France et s'installe à Meudon ou il pratique la médecine dans son cabinet. Même s'il a continué d'écrire et de publier, c'est en 1957 que Céline revient sur le devant de la scène littéraire avec "D'un château l'autre. Il redevient alors parcimonieusement visitable, fait l'objet d'entretiens et d'interviews dans la presse et les médias audiovisuels.

Il décède le 1er juillet 1961 à Meudon et est inhumé le 4 juillet au cimetière communal avant que l'annonce de sa mort ne soit publiquement communiquée. Sa veuve, Lucette, devient sa légataire universelle. Elle décède le 8 novembre 2019 à 107 ans et le rejoint dans la sépulture commune.
Statistics
Works

105

Also by

6

Members

11,436

Popularity

#2,058

Rating

4.1
Reviews

159

ISBNs

477

Languages

27

Favorited

104

Touchstones

254