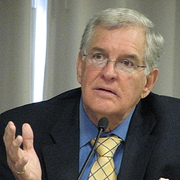 Common Knowledge
Canonical name

Other names

Birthdate

Gender

Nationality

Birthplace

Places of residence

Education

Ohio Wesleyan University (AB|1962)
Duke Divinity School (BD|1965)
Duke Graduate School (PhD|1967)
Eleve Titulaire de 1'École biblique avec la mention""
École bibliqueet archéologique française de Jérusalem (ET très honorable|1969)

Occupations

Organizations

Princeton Theological Seminary
Duke University
Studiorum Novi Testamenti Societas
Society of Biblical Literature
Catholic Biblical Association
American Academy of Religion (show all 8)
American Schools of Oriental Research
United Methodist Church

Awards and honors

Phi Beta Kappa
Kappa Kappa Psi
Member Royal Norwegian Society of Sciences and Letters [ DKNVS]
Honorary Fellow, Learned Society of the Czech Republic
and many, many more...

Short biography

Scholar of biblical language and literature whose specialist subjects are Apocrypha and Pseudepigrapha of the OId and New Testaments, the Dead Sea Scrolls, Josephus, Jesus research, and the Gospel of John. Emeritus director of the Princeton Theological Seminary's Dead Sea Scrolls Project.

Disambiguation notice

James Charlesworth, born 1977, and James H. Charlesworth, born 1940, are different authors. Please do not combine them.
Statistics
Works

99

Also by

12

Members

2,950

Popularity

#8,657

Rating

4.3
Reviews

19

ISBNs

141

Languages

6

Favorited

2

Touchstones

5