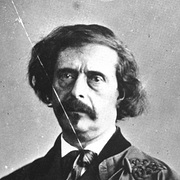 Jules Barbey d'Aurevilly
(1808–1889)
Common Knowledge
Canonical name

Legal name

Other names

Birthdate

Date of death

Burial location

Cimetière du Montparnasse, Paris, Île-de-France, France
Churchyard, Saint-Sauveur-le-Vicomte, France (reinterred ∙ 1926)

Gender

Nationality

Country (for map)

Birthplace

Place of death

Places of residence

Education

Occupations

Relationships

Organizations

Le Réveil, Journal littéraire (Fondateur, 18 58
La Revue du Monde catholique, journal ultramontain (Rédacteur en chef, 18 47 | 18 48)
Le Moniteur de la mode, Revue (Collaborateur, 18 43)
Le Globe, Journal politique (Collaborateur, 18 42)
Le Nouvelliste, Journal politique (Collaborateur, 19 36)
Revue critique de la philosophie, des sciences et de la littérature (Fondateur, 18 34)

Short biography

Jules Barbey d'Aurevilly est un écrivain et journaliste français.
Il naît à Saint-Sauveur-le-Vicomte (Manche) le 2 novembre 1808 au sein d'une vieille famille normande de notables, catholique et monarchiste. Il est élevé à Valognes dès 1818, par un oncle médecin, libéral et athée ou il fait ses études au collège puis poursuit au collège Stanislas à Paris en 1827 et obtient son baccalauréat en 1929. Il suit ensuite des études de droit à l'université de Caen de 1829 à 1833.

En 1933, il s'installe à Paris et tente de s'imposer dans le monde littéraire. En compagnie de Maurice Guérin, il fréquente les cercles, mène une vie désordonnée et adopte jusqu'à l'extrême la mode dandy, qu'il illustre en 1844 dans un essai intitulé "Du Dandysme et de George Brummel". Dans le même temps, il se rallie peu à peu aux monarchistes et s'affirme comme un catholique convaincu.
Sans grand succès littéraire, Barbey d'Aurevilly travaille pour divers journaux et revues comme critique littéraire. Il y brille et se fait remarquer pour ses dons de polémistes et sa finesse d'esprit. Il se fait le défenseur des "prophètes du passé" dans un recueil d'études portant ce titre publié en 1851, dans lequel il aborde l'œuvre de Chateaubriand, de Joseph de Maistre ou encore de Lamennais, tout en reconnaissant aussi la valeur de « modernes » tels que Stendhal ou Baudelaire. Au delà, il s'attaque sans ménagement à Victor Hugo, auréolé alors de gloire, puis plus tard Emile Zola.
Son œuvre critique, est rassemblée sous le titre "Les Hommes et les œuvres" de 1860 à 1895, et lui vaut le surnom de "connétable des lettres".
Barbey d'Aurevilly poursuit également son œuvre romanesque, publiant Vellini ou Une vieille maîtresse en 1851, L'Ensorcelée (1854), Le chevalier des Touches (1864) et Un prêtre marié (1865). Son œuvre reste pourtant méconnue.

Les Diaboliques, considéré comme son oeuvre majeure, d'abord retiré des ventes en 1874 puis finalement publié en 1883, accède au succès mais aussi au scandale et à un procès. L'œuvre lui vaut l'admiration d'un petit groupe d'écrivains, parmi lesquels les Goncourt et Léon Bloy.

Malade, il meurt le 23 avril 1889 à Paris. D'abord inhumé au cimetière parisien de Montparnasse, ses cendres sont transférées en 1926 dans son village natal de Saint-Sauveur-le-Vicomte, dans le cimetière des frères.
Statistics
Works

99

Also by

16

Members

1,376

Popularity

#18,685

Rating

4.0
Reviews

31

ISBNs

228

Languages

16

Favorited

10