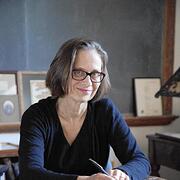 Common Knowledge
Legal name

Birthdate

Gender

Nationality

Birthplace

Places of residence

Northampton, Massachusetts, USA
East Nassau, New York, USA
Port Ewen, New Jersey, USA
New York, New York, USA

Education

Occupations

Relationships

Organizations

Awards and honors

Lannan Literary Award ( [1998])
Whiting Writers' Award (1988)
National Endowment for the Arts Fellowship (Fiction Translation)
French-American Foundation Translation Award (1993)
Guggenheim Fellowship
Fund for Poetry Award (1992) (show all 11)
Chevalier de l'Ordre des Arts et des Lettres
Ingram Merrill Foundation grant for fiction
MacArthur Fellowship (2003)
Man Booker International Prize (2013)
Paris Review Hadada Award (2016)

Short biography

Lydia Davis, a professor of Creative Writing, has published several volumes of short stories and a novel, The End of the Story (1995). She has also translated classic works of French literature and philosophy, including Swann's Way by Marcel Proust and Madame Bovary by Gustave Flaubert. She has won many major American writing awards and her work is included in several anthologies. In 1999, she was named a Chevalier of the Order of Arts and Letters by the French government for her translations. She was a finalist for the 2007 National Book Award and in 2013 won the Man Booker International Prize.
Statistics
Works

36

Also by

43

Members

4,029

Popularity

#6,253

Rating

3.9
Reviews

114

ISBNs

140

Languages

14

Favorited

9