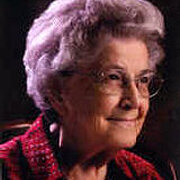 Dorothy Gilman
(1923–2012)
Common Knowledge
Legal name

Other names

Birthdate

Date of death

Gender

Nationality

Birthplace

Place of death

Places of residence

Education

Pennsylvania Academy of the Fine Arts (1940-1945)
University of Pennsylvania (1963-64)
Art Students League of New York

Occupations

Organizations

Awards and honors

Short biography

Dorothy Edith Gilman was born in New Brunswick, NJ, the daughter of James Bruce, a minister, and Essa (Starkweather) Gilman, and said she decided on a writing career as a child. She attended university as well as fine art schools and became an art teacher and an instructor in creative writing. In 1945, she married Edgar Butters, Jr., a teacher; the couple had two children before divorcing in 1965. Under her married name, Dorothy Gilman Butters, she began publishing children's books in the late 1940s.

The New York Times said in her obituary: "[Her] best-known heroine, Mrs. Pollifax, is very likely the only spy in literature to belong simultaneously to the Central Intelligence Agency and the local garden club."

The Unexpected Mrs. Pollifax (1966) was the first novel in what would become a highly popular 14-book series about Mrs. Emily Pollifax, a bored 60-something retired grandmother in search of a bit of adventure in an otherwise mundane life.
Statistics
Works

51

Also by

80

Members

16,955

Popularity

#1,312

Rating

3.8
Reviews

412

ISBNs

473

Languages

6

Favorited

40