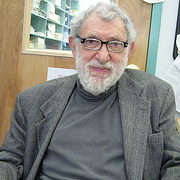 John Hollander
(1929–2013)
Common Knowledge
Other names

Birthdate

Date of death

Gender

Nationality

Birthplace

Place of death

Places of residence

Education

Occupations

Relationships

Organizations

Awards and honors

Bollingen Prize (1983)
American Academy of Arts and Letters Academy Award (Literature ∙ 1963)
Poet Laureate of Connecticut
Frost Medal (2007)

Short biography

John Hollander wrote and edited numerous books of poetry and criticism including, Picture Window (Alfred A. Knopf, 2003) and A Crackling of Thorns (Yale University Press, 1958), which was chosen by W. H. Auden for the Yale Series of Younger Poets. A former Chancellor of the Academy of American Poets and former poet laureate of Connecticut, he taught at Connecticut College, Hunter College, the CUNY Graduate Center, and Yale, where he was the Sterling Professor emeritus of English. Hollander died on August 17, 2013, at the age of 83.
Statistics
Works

87

Also by

32

Members

5,329

Popularity

#4,671

Rating

4.1
Reviews

36

ISBNs

131

Languages

1

Favorited

2

Touchstones

37