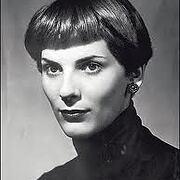 Elizabeth Jane Howard
(1923–2014)
Common Knowledge
Birthdate

Date of death

Gender

Nationality

Birthplace

Place of death

Places of residence

Occupations

Relationships

Scott, Peter (first husband)
Amis, Kingsley (third husband)
Amis, Martin (step-son)
Aickman, Robert (lover)

Organizations

Awards and honors

Short biography

Elizabeth Jane Howard, known as Jane, worked briefly as an actor in provincial theater before marrying Sir Peter Scott in 1942, at age 19. They had a daughter, Nicola, and divorced in 1951. A second marriage, to Jim Douglas-Henry in 1958, was brief. Her third marriage to novelist Kingsley Amis lasted from 1965 to 1983. She published her first novel in 1950 and her autobiography, Slipstream, in 2002.

Disambiguation notice

Elizabeth Jane Howard (March 26, 1923-January 2, 2014) was a British novelist. Not to be confused with mystery writer Elizabeth Howard.
Statistics
Works

49

Also by

15

Members

5,572

Popularity

#4,457

Rating

4.0
Reviews

175

ISBNs

468

Languages

9

Favorited

23

About

1

Touchstones

272