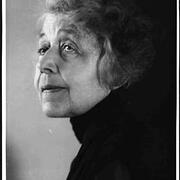 Common Knowledge
Canonical name

Legal name

Other names

Birthdate

Date of death

Burial location

Gender

Nationality

Birthplace

Place of death

Places of residence

Zürich, Switzerland
Bremen, Germany
Vienna, Austria
Trieste, Italy
Munich, Germany
Berlin, Germany (show all 7)
Jena, Germany

Education

Occupations

Relationships

Awards and honors

Short biography

Ricarda Huch was born in Braunschweig (Brunswick), Germany, the daughter of a wealthy merchant family. As women in that era were not permitted to matriculate at German universities, she went to the University of Zurich, where she became the first woman admitted. She obtained a doctorate in history in 1892. She worked as a librarian in Zurich and then as a teacher in Bremen.
She published several volumes of lyrical poetry around this time, including Gedichte (1891) and Neue Gedichte (1907), later combined and re-issued under the title Liebeslyrik (1913). Her first novel, published in 1892, was highly romantic. In 1898, she married Ermanno Ceconi, an Italian dentist, and lived with him in Trieste for several years. She had long been in love with her cousin and brother-in-law Richard Huch, her sister's husband, and finally married him in 1907 after divorces from their spouses. She rose to fame during the years 1902 to 1910 as a master of the historical novel. The best-known are two works dealing with the Romantic period in German history, Blütezeit der Romantik (1899) and Ausbreitung und Verfall der Romantik (1902). Others of her books from this period center on the unification of Italy in the 19th century, Die Geschichten von Garibaldi (1906-1907), Die Verteidigung Roms (1906), and Der Kampf um Rom (1907). She then turned to writing the nonfiction historical works that earned her lasting renown. Her trilogy, Deutsche Geschichte (1912-1949), described Germany during the Thirty Years War, the Reformation, and the collapse of the Holy Roman Empire. In 1933, she refused to join the newly-founded Nazi Academy of Writers.

She resigned as the first woman elected to the Prussian Academy of Arts and went into internal exile in Jena, where she wrote a memoir of her years as a young woman in Switzerland, published in 1938 as Frühling in der Schweiz. Among her many awards and honors were the 1931 Goethe Prize.