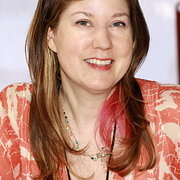 Maureen Johnson
(1)
(1973–)
For other authors named Maureen Johnson, see the disambiguation page.
Common Knowledge
Birthdate

Gender

Nationality

Birthplace

Places of residence

Education

Occupations

Awards and honors

Agent

Short biography

Maureen Johnson (born February 16, 1973) is an American author of young adult fiction. Her published novels include 13 Little Blue Envelopes, The Name of the Star, Truly Devious, and Suite Scarlett. Among Johnson's works are collaborative efforts such as Let It Snow, a holiday romance novel of interwoven stories co-written with John Green and Lauren Myracle, and a series of novellas found in anthologies The Bane Chronicles, Tales from the Shadowhunter Academy, and Ghosts of the Shadow Market.

Johnson was born in Philadelphia and attended an all-girl Catholic preparatory high school. She graduated from the University of Delaware in 1995 with a degree in English. Johnson later worked variously as literary manager of a Philadelphia theater company, a waitress in a theme restaurant, a secretary, a bartender in Piccadilly, and an occasional performer in New York City. She studied both writing and theatrical dramaturgy at Columbia University, where she received her MFA in Writing.

Johnson's debut novel The Key to the Golden Firebird was published in May 2004 by HarperTeen. Centered around themes of grief and resilience and set in the suburbs of Philadelphia a year after his passing, the novel depicts three sisters of different age as they individually process and come to understand their father's death, and their paths ahead. The Key to the Golden Firebird entered the market during a resurgence of popular interest in the young adult fiction genre. In 2005, it received starred reviews from both School Library Journal and Booklist.
Statistics
Works

38

Also by

7

Members

25,434

Popularity

#823

Rating

3.9
Reviews

1,230

ISBNs

518

Languages

16

Favorited

65