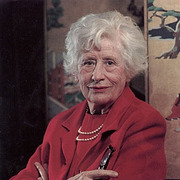 Common Knowledge
Legal name

Birthdate

Date of death

Burial location

Gender

Nationality

Birthplace

Place of death

Places of residence

Education

Occupations

Organizations

Awards and honors

Short biography

Ngaio Marsh was the pen name of Edith Ngaio Marsh, born in Christchurch, New Zealand to English immigrants. Her name, pronounced "ny-o," was a Maori word meaning "reflections on the water." She attended the private St. Margaret's College, where she showed an aptitude for acting and writing, producing poetry, prose and plays.

In 1913 she entered Canterbury College School of Art and left in 1919 in order to become a professional painter. The opportunity to tour with the Allan Wilkie Shakespeare Company delayed her plans until later in the 1920s. In 1928, Marsh made her first visit to England, where she worked in the theatre, interior design, and travel writing. She began writing novels and soon embarked on a prolific crime-writing career. In 1934, she published A Man Lay Dead, featuring the very English Chief Detective Inspector Roderick Alleyn. During World War II, she served in a New Zealand Red Cross Transport Unit, driving repatriated soldiers in a hospital bus. By the 1950s, Marsh was considered a "Queen of Crime" along with Agatha Christie, Margery Allingham, and Dorothy L. Sayers.

Marsh was passionately attached to her native country and returned to live in New Zealand but made frequent trips to England and other countries. She became a leader of the New Zealand theatre, mounting numerous Shakespeare plays. In her career, Ngaio Marsh wrote 32 novels and an autobiography, Black Beech and Honeydew (1965). She never married. Margaret Lewis wrote an authorized biography, Ngaio Marsh, A Life in 1991. New Zealand art historian Joanne Drayton's biography, Ngaio Marsh: Her Life in Crime, was published in 2008.
Statistics
Works

105

Also by

47

Members

27,922

Popularity

#728

Rating

3.7
Reviews

577

ISBNs

1,257

Languages

14

Favorited

69