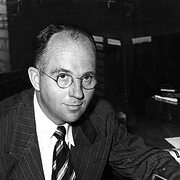 James A. Michener
(1907–1997)
Common Knowledge
Legal name

Birthdate

Date of death

Burial location

Gender

Nationality

Birthplace

Place of death

Cause of death

Places of residence

Education

Occupations

Relationships

Organizations

Awards and honors

Presidential Medal of Freedom (1977)
Honorary portrait image on a United States postage stamp (2008)
Pulitizer Prize (Fiction, 1948)

Short biography

James A. Michener
- De wereld is mijn thuis
- Historische romans op basis van gedegen onderzoek
- Bewogen leven

James A. Michener (1907-1997) had geen makkelijke jeugd: hij verloor al zeer jong zijn ouders en kende als kind veel armoede. In de Tweede Wereldoorlog was hij onder meer piloot en beleefde enkele crashes. Over deze tijd schreef hij onder meer in Tales of the South Pacific (1947), zijn debuutroman die meteen bekroond werd met de Pulitzer Prize.

Het zijn meestal lijvige werken, maar de romans van Michener zijn nog altijd zeer de moeite waard. Hij schreef tientallen (overwegend) historische romans. Zijn verhalen gaan letterlijk de hele wereld over: de onderwerpen die hij behandelt betreffen vaak de geschiedenis van een bepaald land. Michener was zelf ook een fervent reiziger: zo heeft hij de meeste landen ter wereld wel bezocht.

Research
Het werk van Michener wordt gekenmerkt door grondige research en gedegen kennis van het onderwerp waarover hij schrijft. Meestal werkte hij jarenlang aan een boek.
Statistics
Works

217

Also by

49

Members

43,662

Popularity

#386

Rating

3.9
Reviews

560

ISBNs

1,006

Languages

17

Favorited

113

About

2

Touchstones

646