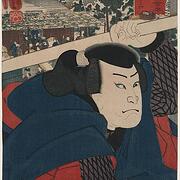 Musashi Miyamoto
(1584–1645)
Common Knowledge
Canonical name

Other names

Birthdate

Date of death

Burial location

Gender

Nationality

Birthplace

Occupations

Short biography

Miyamoto Musashi (宮本 武蔵), also known as Shinmen Takezō, Miyamoto Bennosuke, or by his Buddhist name Niten Dōraku, was a Japanese swordsman and samurai famed for his duels and distinctive style. Musashi, as he was often simply known, became renowned through stories of his excellent swordsmanship in numerous duels, even from a very young age. He was the founder of the Hyōhō Niten Ichi-ryū or Niten-ryū style of swordsmanship and the author of The Book of Five Rings (五輪書, Go Rin No Sho), a book on strategy, tactics, and philosophy that is still studied today.

Disambiguation notice

There is some dispute over the date of Musahi's death.