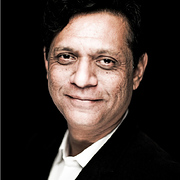 Common Knowledge
Canonical name

Legal name

Other names

Birthdate

Gender

Nationality

Birthplace

Places of residence

Surat, Gujarat. India
Baroda, Gujarat. India
Ahmedabad, Gujarat. India
Prantij, Gujarat. India
Ambaji, Gujarat. India

Education

Occupations

Awards and honors

Short biography

Vihang A Naik was born in Surat, Gujarat on September 2, 1969. He is India's contemporary poet writing in English. His poems have appeared in such literary journals as Indian P.E.N.,Indian Literature : A Sahitya Akademi Bi-Monthly Journal, Kavya Bharati, POESIS: A Journal of Poetry Circle, Mumbai, The Journal of The Poetry Society (India), The Journal of Indian Writing In English, The Journal of Literature and Aesthetics, The Poetry Chain among other significant journals. He is educated from The M.S. University of Baroda with Philosophy, Indian and English Literature.

Four collections of his poetry have been published: Poetry Manifesto: New & Selected Poems (2010), Making A Poem (2004), City Times and Other Poems (1993). His Gujarati collection of poems include Jeevangeet (Gujarati Poems) published by Navbharat Sahitya Mandir (Ahmedabad) in 2001, dedicated to the cause of victims of Gujarat Earthquake of January 26, 2001. He also translates poetry written in the Gujarati language into English, including his own Gujarati language poems.