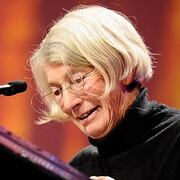 Common Knowledge
Canonical name

Birthdate

Date of death

Gender

Nationality

Birthplace

Place of death

Cause of death

Places of residence

Education

Occupations

Relationships

Organizations

Awards and honors

Shelley Memorial Award (1969/1970)
Lannan Literary Award (Poetry, 1998)
American Academy of Arts and Letters Academy Award (Literature, 1983)
New England Booksellers Association Award for Literary Excellence ( [1999])
Guggenheim Fellowship
National Endowment for the Arts Fellowship

Agent

Short biography

Mary Oliver (1935-2019) was born in Ohio and as a teenager lived briefly in the home of Edna St. Vincent Millay, helping Millay's family sort through the poet's papers. She attended both Ohio State University and Vassar College, though she did not receive a degree.

Her first collection of poems, No Voyage, and Other Poems, was published in 1963. Since then, she has published numerous books, including New and Selected Poems (1992), which won the National Book Award, and American Primitive (1983), for which she won the Pulitzer Prize.

"Mary Oliver's poetry is an excellent antidote for the excesses of civilization," wrote one reviewer for the Harvard Review, "for too much flurry and inattention, and the baroque conventions of our social and professional lives. She is a poet of wisdom and generosity whose vision allows us to look intimately at a world not of our making."

Her many awards include the Poetry Society of America's Alice Fay di Castagnola Award.

Mary Oliver held the Catharine Osgood Foster Chair for Distinguished Teaching at Bennington College until 2001.
Statistics
Works

50

Also by

32

Members

15,933

Popularity

#1,424

Rating

4.2
Reviews

338

ISBNs

139

Languages

4

Favorited

34

Touchstones

509