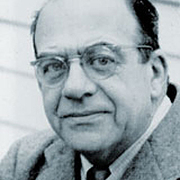 Erwin Panofsky
(1892–1968)
Common Knowledge
Birthdate

Date of death

Gender

Nationality

Country (for map)

Birthplace

Place of death

Cause of death

Places of residence

Education

University of Berlin (law, art history, history, philosophy)
University of Munich (art history, history, philosophy)
University of Freiburg (art history, history, philosophy) (Dr. phil. 1914)

Occupations

Relationships

Panofsky, Dora (wife)
Panofsky, Wolfgang (son)
Wind, Edgar (student)
Panofsky, Hans A. (son)
Kantorowicz, Ernst H. (colleague)
Goldschmidt, Adolph (teacher) (show all 7)
Vöge, Wilhelm (teacher)

Organizations

German Academy for Language and Poetry
University of Hamburg
Princeton University
Institute for Advanced Study

Awards and honors

Haskins Medal of the Medieval Academy of America (1962)
Charles Eliot Norton professor at Harvard University (1947-1948)
Samuel Morse Professor of Fine Arts, New York University (1962)
American Philosophical Society (1943)
American Academy of Arts & Sciences (1948)
Corresponding Fellow, British Academy (1955) (show all 7)
Royal Netherlands Academy of Arts and Sciences (1954)

Short biography

Erwin Panofsky was born to a wealthy Jewish family in Hannover, Germany, and grew up in Berlin. From 1910 to 1914, he studied law, philosophy, history, and art history at the universities of Freiburg, Munich, and Berlin. He completed his doctorate in 1914 at the University of Freiburg with a dissertation on Dürer's artistic theory supervised by Wilhelm Vöge. It was published in book form the following year. Panofsky was exempted from military service during World War I because of a riding accident and used the time attend the seminars of medievalist Adolph Goldschmidt in Berlin. He taught art history at the University of Berlin, University of Munich, and finally at the University of Hamburg, where he was a professor from 1920 to 1933. It was during this period that his first major writings on art history began to appear, including Idea: A Concept in Art Theory (English translation, 1934). Prof. Panofsky first went to the USA in 1931 to teach at New York University. Although he initially spent alternate terms in Hamburg and New York City, after the Nazi regime came to power in Germany, Panofsky lost his position in Hamburg and remained permanently in the USA with his wife Dorothea "Dora" Mosse, also an art historian. The two became part of the so-called Kahler-Kreis (Kahler Circle) of Erich and Alice (Loewy) Kahler, who welcomed Jewish intellectual refugees from Europe at their home in Princeton, New Jersey. The group included Albert Einstein, Thomas Mann, Hetty Goldman, Ernst Kantorowicz, Kurt Gödel, and Ben Shahn. By 1934, Prof. Panofsky was teaching concurrently at NYU and Princeton University, and in 1935 he was invited to join the faculty of the new Institute for Advanced Study in Princeton, where he remained for the rest of his career. Panofsky was elected a member of the American Academy of Arts and Sciences, the American Philosophical Society, the British Academy, and a number of other national academies. Prof. Panofsky was particularly well-known for his studies of the symbols and iconography in medieval and Renaissance art. For example, he was the first to interpret Jan van Eyck's 1434 Arnolfini Portrait as containing a plethora of hidden symbols pointing to the sacrament of marriage. Among his other major works in English were Studies in Iconology (1939); The Codex Huygens and Leonardo da Vinci's Art Theory (1940); Early Netherlandish Painting (2 volumes, 1953); and Meaning in the Visual Arts (1955), a collection of nine of his most important articles and essays.
Statistics
Works

42

Also by

6

Members

3,145

Popularity

#8,117

Rating

4.1
Reviews

14

ISBNs

222

Languages

18

Favorited

10