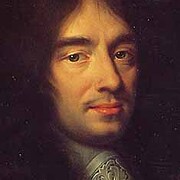 Charles Perrault
(1628–1703)
Common Knowledge
Canonical name

Legal name

Birthdate

Date of death

Gender

Nationality

Birthplace

Place of death

Places of residence

Education

Occupations

Relationships

Organizations

Short biography

Charles Perrault was born to a wealthy bourgeois family in Paris. He attended the best schools and was always top of his class. He chose the law as a career, and also worked with his older brother Jean collecting taxes for the city of Paris. His brother Claude Perrault became a prominent architect of the Louvre. King Louis XIV liked Charles Perrault and gave him several appointments and positions, including looking after royal buildings, designing tapestries, and writing poems. Perrault was elected to the Académie Française in 1671, and opened up the induction ceremony to the public for the first time. In 1672, he married Marie Guichon and the couple had several children. After she died in 1678, he gave up his public life to educate their children. He was nearly 70 years old when he published the book for which he's best remembered today, Contes de ma mère l'oye (Tales of Mother Goose, 1697). It contained eight classic fairy tales that continue to be beloved by adults and children and have inspired many other works, including Sleeping Beauty, Little Red Riding Hood, Bluebeard, Puss in Boots, Cinderella, and Tom Thumb. Many of the stories were well-known oral tales in Perrault's time, but had never been written down before.

Disambiguation notice

Strictly C. Perrault could also refer to Claude Perrault, so it may have to be separated out at some stage.
Statistics
Works

793

Also by

52

Members

7,544

Popularity

#3,237

Rating

3.9
Reviews

234

ISBNs

1,580

Languages

33

Favorited

11

Touchstones

58