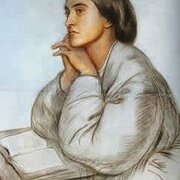 Christina Rossetti
(1830–1894)
Common Knowledge
Canonical name

Legal name

Other names

Birthdate

Date of death

Burial location

Gender

Nationality

Country (for map)

Birthplace

Place of death

Places of residence

Education

Occupations

Relationships

Rossetti, Dante Gabriel (brother)
Rossetti, William Michael (brother)
Rossetti, Maria Francesca (sister)
Rossetti, Gabriele (father)
Polidori, John William (uncle)
Angeli, Helen Rossetti (niece) (show all 7)
Polidori, Gaetano (maternal grandfather)

Organizations

Short biography

Christina Rossetti's popularity grew after her death and she is now considered one of the leading English Victorian poets. She was born in London, one of four children of aristocratic Italian parents who had emigrated to the UK after her father Gabriele Rossetti was forced into political exile. At age 12, she wrote her first poems, which were printed in the private press of her grandfather. In 1850, under the pseudonym "Ellen Alleyne," she contributed seven poems to the Pre-Raphaelite journal The Germ, founded by her brother William Michael Rossetti and his friends. By the 1880s, Christina had become an invalid from recurring bouts of thyroid disease, which ended her attempts to work as a governess. However, she continued to write. In 1891, Christina apparently developed cancer, and died three years later. Her work influenced that of other writers such as Virginia Woolf, Gerard Manley Hopkins, and Philip Larkin. Although not a member of the Pre-Raphaelite Brotherhood, Christina was engaged for a time to the painter James Collinson, who was a founder of that group with her brothers Dante Gabriel Rossetti and William Michael, and she sat as a model for several of Dante Gabriel Rossetti's most famous paintings.
Statistics
Works

124

Also by

73

Members

4,472

Popularity

#5,606

Rating

4.0
Reviews

56

ISBNs

212

Languages

9

Favorited

31

Touchstones

76