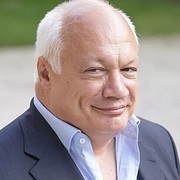 Common Knowledge
Canonical name

Legal name

Birthdate

Gender

Nationality

Birthplace

Places of residence

Education

Occupations

Relationships

Organizations

Lycée militaire de Saint-Cyr
Université de Besançon
Lycée de Cherbourg
Université de Chambéry
Théâtre Rive Gauche, Paris, France (Co-Direction, 2012)

Awards and honors

Short biography

En une dizaine d'années, Eric-Emmanuel Schmitt est devenu un des auteurs francophones les plus lus et les plus représentés dans le monde.

Né en 1960, normalien, agrégé de philosophie, docteur, il s'est d'abord fait connaître au théâtre avec Le Visiteur, cette rencontre hypothétique entre Freud et peut-être Dieu, devenue un classique du répertoire international. Rapidement, d'autres succès ont suivi : Variations énigmatiques, Le Libertin, Hôtel des deux mondes, Petits crimes conjugaux, Mes Evangiles, La Tectonique des sentiments… Plébiscitées tant par le public que par la critique, ses pièces ont été récompensées par plusieurs Molière et le Grand Prix du théâtre de l'Académie française. Son œuvre est désormais jouée dans plus de quarante pays.

Il écrit le Cycle de l'Invisible, quatre récits sur l'enfance et la spiritualité, qui rencontrent un immense succès aussi bien sur scène qu'en librairie : Milarepa, Monsieur Ibrahim et les fleurs du Coran, Oscar et la dame rose et L'Enfant de Noé. Une carrière de romancier, initiée par La Secte des égoïstes, absorbe une grande partie de son énergie depuis L'Evangile selon Pilate, livre lumineux dont La Part de l'autre se veut le côté sombre. Depuis, on lui doit Lorsque j'étais une œuvre d'art, une variation fantaisiste et contemporaine sur le mythe de Faust et une autofiction, Ma Vie avec Mozart, une correspondance intime et originale avec le compositeur de Vienne. Deux recueils de nouvelles se sont ajoutés récemment: Odette Toulemonde et autres histoires, 8 destins de femmes à la recherche du bonheur, est inspiré par son premier film tandis que la rêveuse d'Ostende est un bel hommage au pouvoir de l'imagination.

En 2006 il écrit et réalise son premier film: Odette Toulemonde. (Sortie le 7 février 2007)

Amoureux de musique, Eric-Emmanuel Schmitt a également signé la traduction française des Noces de Figaro et de Don Giovanni. Toujours curieux, il ouvre en permanence de nouvelles portes, tend de nouveaux miroirs, pour notre plus grand plaisir.

Il vit à Bruxelles et toutes ses œuvres en français sont éditées par Albin Michel.
Statistics
Works

135

Also by

1

Members

6,457

Popularity

#3,809

Rating

3.7
Reviews

242

ISBNs

600

Languages

29

Favorited

20

Touchstones

98