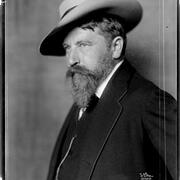 Arthur Schnitzler
(1862–1931)
Common Knowledge
Other names

Birthdate

Date of death

Burial location

Gender

Nationality

Birthplace

Place of death

Cause of death

Places of residence

Education

Occupations

Relationships

von Hofmannsthal, Hugo (friend)
Beer-Hofmann, Richard (friend)
Schnitzler, Michael (grandson)
Auernheimer, Raoul (friend, correspondent)
Zweig, Stefan (friend, correspondent)
Mann, Thomas (friend, correspondent) (show all 9)
Schnitzler, Heinrich (son)
Feldmann, Else (correspondent)
Zuckerkandl, Bertha (friend)

Organizations

Awards and honors

Short biography

Arthur Schnitzler was born to a Jewish family in Vienna, Austria. His parents were Luise (Markbreiter) and Johann Schnitzler, an internationally renowned physician. He had a brother, Julius and a sister, Gisela. He studied medicine at the University of Vienna from 1879 and received his medical degree in 1885. He practiced medicine for many years, especially psychiatry, but he considered writing his primary career. He first won literary recognition in 1891 with a series of one-act plays. His work Reigen (Round Dance, 1897), a cycle of 10 dramatic dialogues, inspired numerous stage and screen adaptations, including The Merry-Go-Round (Der Reigen, 1920); Circle of Love (1964); and the famous La Ronde (1950). Although successful, Reigen was highly controversial for its frank depiction of sexuality, and was banned in several cities. As a member of the avant-garde group Young Vienna (Jung-Wien), Schnitzler experimented with format as well as social conventions. His satirical 1901 novella Leutnant Gustl (English translation: None but the Brave), was the first European masterpiece written as a stream-of-consciousness interior monologue. It also incurred much anti-Semitic comment, and Schnitzler was dismissed from the regiment where he had done military medical service. His prolific list of other works included more plays, novels, and collections of short stories. In 1903, he married Olga Gussmann, alias Dina Marius, an aspiring actress and singer 20 years his junior with whom he had two children; the couple divorced in 1921. Schnitzler kept a diary from the age of 17 until two days before his death. It was published posthumously, along with collections of his letters and his autobiography, Jugend in Wien (My Youth in Vienna, 1968). Schnitzler's works were banned by the Nazis in Austria and Germany and burned along with those of other Jews, including Einstein, Marx, Kafka, and Freud. The majority of his papers, which included unpublished texts, was saved from the Nazis in 1938 by Eric A. Blackall, a British citizen living in Vienna at the time. They were later donated to the Cambridge University Library. Schnitzler's son Heinrich, a theater director, tried to get the documents back but did not succeed.
Statistics
Works

401

Also by

33

Members

6,468

Popularity

#3,800

Rating

3.7
Reviews

84

ISBNs

840

Languages

20

Favorited

20