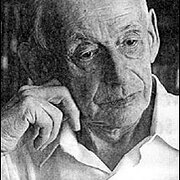 Gershom Scholem
(1897–1982)
Common Knowledge
Canonical name

Other names

Birthdate

Date of death

Burial location

Gender

Nationality

Country (for map)

Birthplace

Place of death

Places of residence

Education

Occupations

Professor of Jewish Mysticism, Hebrew University of Jerusalem
philosopher
historian of mathematics
biographer
essayist
Linguist (show all 7)
librarian

Relationships

Organizations

Awards and honors

Short biography

Gershom Scholem was born Gerhard Scholem to an assimilated German Jewish family in Berlin. In 1915, he enrolled at the Humboldt University of Berlin, where he studied mathematics, philosophy, and Hebrew. He met Martin Buber, Shmuel Yosef (S.Y.) Agnon, and other Jewish philosophers. He studied mathematical logic at the University of Jena and received a degree in Semitic languages at the University of Munich. Having become a Zionist as a young man, Scholem left Germany to live in Palestine (changing his first name) in 1923, along with S.D. Goitein. He got a job as librarian at the newly-established Hebrew University of Jerusalem and spent the rest of his life at that institution. He is widely regarded as the founder and pre-eminent scholar of modern Jewish mysticism, becoming the first Professor of Jewish Mysticism at the Hebrew University. Martin Buber said, "All of us have students, schools, but only Gershom Scholem has created a whole academic discipline!" His close friends included Walter Benjamin and Leo Strauss, and selected letters from their correspondence have been published. Prof. Scholem published more than 40 books and close to 700 articles and trained three generations of scholars of Kabbalah. He's best known for his collection of lectures called Major Trends in Jewish Mysticism (1941) and for his biography Sabbatai Zevi, the Mystical Messiah (1973). His book On Kabbalah and Its Symbolism (1965) another collection of speeches and essays, has helped to spread knowledge of Jewish mysticism among non-Jews.
Statistics
Works

82

Also by

1

Members

4,651

Popularity

#5,427

Rating

4.1
Reviews

39

ISBNs

241

Languages

17

Favorited

12

Touchstones

24