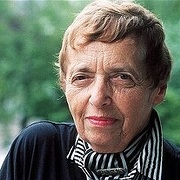 Common Knowledge
Canonical name

Birthdate

Date of death

Gender

Nationality

Country (for map)

Birthplace

Place of death

Places of residence

Education

Stonar House, Sandwich, Kent, England, U.K.
Realgymnasium and Lyzeum Luithlen, Vienna, Austria
Max-Reinhardt-Seminar, Vienna, Austria
Sorbonne, Paris, France

Occupations

Relationships

Organizations

Awards and honors

The Duff Cooper Prize (1995)
Stig Dagerman Prize (2002)
Commander of the Order of the British Empire (2004)

Short biography

Gitta Sereny was born in Vienna to an aristocratic Hungarian-German family. As an 11-year-old schoolgirl, she heard Hitler speak at one of the Nazi Nuremberg rallies. She was educated in England and Vienna, where she studied at the drama school founded by director Max Reinhardt. After the Nazi takeover of Austria in 1938, she moved to France, where she worked as a volunteer nurse with orphans and participated in the French Resistance, until she had to flee the country when the Germans occupied it. After World War II, she was a welfare worker with displaced persons before becaming a journalist, and gained fame for a book about Albert Speer. In 1948, she married photographic journalist Don Honeyman and moved with him to London, where they raised their two children. Gitta Sereny wrote investigative articles for newspapers and magazines as well as books. Her subjects included the trials of Nazi concentration camp personnel and young child murderer Mary Bell.
Statistics
Works

9

Also by

1

Members

2,297

Popularity

#11,183

Rating

4.0
Reviews

46

ISBNs

100

Languages

12

Favorited

6

Touchstones

35