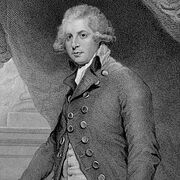 Richard Brinsley Sheridan
(1)
(1751–1816)
For other authors named Richard Brinsley Sheridan, see the disambiguation page.
Common Knowledge
Legal name

Birthdate

Date of death

Burial location

Gender

Nationality

Birthplace

Place of death

Places of residence

Education

Occupations

Relationships

Sheridan, Frances (mother)
Blackwood, Helen Selina Sheridan (granddaughter)
Norton, Caroline (granddaughter)
Lefanu, Alicia Sheridan (sister)
Sheridan, Betsy (sister)
Le Fanu, Joseph Sheridan (great-nephew) (show all 11)
Dufferin, Lord (great-grandson)
Broughton, Rhoda (great-great-niece)
Blackwood, Caroline (descendant)
Sheridan, Caroline Henrietta (daughter-in-law)
Sheridan, Thomas (father)

Organizations

Garrick Club, London, England, UK
Literary Club, London, England, UK
Theatre Royal, Drury Lane, London

Short biography

Richard Brinsley Sheridan is still popular today for his satirical, witty comedies of manners such as The Rivals (1775) and The School for Scandal (1777). He also served as a Member of Parliament for 32 years. He was part of an acting and literary dynasty: His mother Frances Sheridan, née Chamberlaine, was a playwright and novelist, and his father Thomas Sheridan was an actor-manager who went on to write several books on education. Many of his descendants, his two sisters, and some of their descendants also became writers.
Statistics
Works

59

Also by

12

Members

2,983

Popularity

#8,555

Rating

3.7
Reviews

35

ISBNs

190

Languages

4

Favorited

2

Touchstones

67