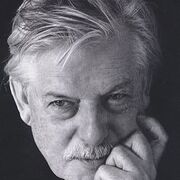 Common Knowledge
Canonical name

Legal name

Birthdate

Gender

Nationality

Country (for map)

Birthplace

Places of residence

Education

Occupations

Relationships

Awards and honors

Short biography

Jan Geurt Siebelink (Velp, 13 februari 1938) is een Nederlandse schrijver en essayist.
Siebelink groeide op in een streng-godsdienstig christelijk gezin. Hij werd leraar Nederlands en Frans en studeerde in zijn vrije tijd Franse taal- en letterkunde. Naast zijn leraarsbaan begon hij te schrijven en bracht hij een aantal romans en verhalen voort.
Zijn belangrijkste romans zijn: De herfst zal schitterend zijn; En joeg de vossen door het staande koren; De overkant van de rivier; Vera; Margaretha en de bestseller Knielen op een bed violen.
In het laatstgenoemde boek vertelt Siebelink over de godsdienstige kring waar zijn vader toe behoorde en hoe hij daar zelf bij betrokken werd.
Van Knielen op een bed violen waren in 2008 meer dan 500.000 exemplaren verkocht. In september 2009 kwam de vijftigste druk uit.
Naast zijn literaire werk schreef Siebelink ook essays over decadente Franse literatuur. Hij is woonachtig in Ede.


Statistics
Works

65

Also by

13

Members

2,606

Popularity

#9,857

Rating

3.4
Reviews

81

ISBNs

152

Languages

1

Favorited

4

Touchstones

39