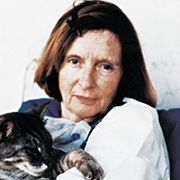 Common Knowledge
Legal name

Other names

Birthdate

Date of death

Gender

Nationality

Birthplace

Place of death

Places of residence

Education

Occupations

Organizations

Awards and honors

George G. Stone Center Recognition Of Merit (entire body of work ∙ 1982)
Kerlan Award (1983)
Newbery Honor Medal (1962, 1966)

Short biography

Mary Stolz, née Slattery, was born in Boston, Massachusetts and grew up in New York City. She studied at Teachers College of Columbia University and the Katharine Gibbs school before going to work as a secretary. Her debut book, To Tell Your Love, written in pencil on yellow legal pads, was published in 1950. She produced acclaimed fiction for children and young adults, ranging from picture books to novels. She also wrote one book for adults, Truth and Consequence (1953). Ms. Stolz also contributed to magazines such as Cosmopolitan, Ladies' Home Journal, and Seventeen. She received the Child Study Association of America's Children's Book Award for her 1953 book In a Mirror; and Newbery Honors in 1962 for Belling the Tiger and in 1966 for The Noonday Friends. Her entire body of work was awarded the George G. Stone Center for Children's Books Recognition of Merit Award in 1982.
Statistics
Works

78

Also by

6

Members

4,724

Popularity

#5,331

Rating

4.1
Reviews

40

ISBNs

224

Languages

3

Favorited

1