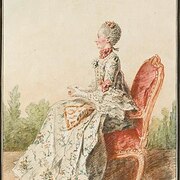 Gabrielle-Suzanne de Villeneuve
(1685–1755)
Common Knowledge
Canonical name

Legal name

Other names

Birthdate

Date of death

Gender

Nationality

Birthplace

Place of death

Places of residence

Occupations

Relationships

Short biography

Gabrielle-Suzanne de Villeneuve, née Barbot, was born in Paris into a prominent French Huguenot family from La Rochelle. She was a daughter of Jean Barbot, seigneur de Romagné et des Mothais, controller of the salt tax, and his wife Suzanne Allaire. In 1706, at about age 21, she was married in La Rochelle to Jean-Baptiste Gaalon de Villeneuve, an aristocrat from Poitou, with whom she had a daughter. Within six months of the marriage, however, she had requested a separation from her husband, who had already squandered much of their substantial joint family inheritance. Her husband died in 1711, and thereafter Madame de Villeneuve supported herself by writing novels and fairy tale romances for adults, some drawn from earlier literature and folk tales. She published her most famous work, the tale "La Belle et la bête" (Beauty and the Beast), the oldest known version of the story, in 1740 in a collection entitled La Jeune Américaine et les contes marins (The Young American and the Marine Tales). La Belle et la bête became even more famous after it was adapted and re-published in 1756 by Madame Leprince de Beaumont.

Disambiguation notice

Do not confuse her with the Madame de Villeneuve, née Marie L'Huillier d'Interville (1597-1650), who founded the order of Daughters of the Cross in 1640.