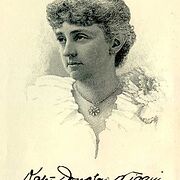 Kate Douglas Wiggin
(1856–1923)
Common Knowledge
Legal name

Birthdate

Date of death

Burial location

Gender

Nationality

Country (for map)

Birthplace

Place of death

Places of residence

Philadelphia, Pennsylvania, USA (birth)
Santa Barbara, California, USA
New York, New York, USA
Hollis, Maine, USA
England, UK

Education

Occupations

Relationships

Organizations

The Dorcas Society (founder)
Society of Bowdoin Women (founder)
Froebel Society (founder)
New York Kindergarten Association

Awards and honors

Short biography

Kate Douglas Wiggin (1856-1923) was a pioneer of the kindergarten movement in the United States in the nineteenth century. She helped to establish the Silver Street Kindergarten in San Francisco in 1878, the first free kindergarten in California. She also co-founded the California Kindergarten Training School for aspiring kindergarten teachers in 1880. In addition to kindergarten training and advocacy, Wiggin was a prolific author of books for children, including the well-known Rebecca of Sunnybrook Farm (1903) and Mother Carey's Chickens (1911). Wiggin also published a number of works on kindergarten theory and method as well as fiction for adults.
Statistics
Works

103

Also by

14

Members

8,098

Popularity

#2,991

Rating

3.6
Reviews

116

ISBNs

815

Languages

9

Favorited

8