All Formats

Paper

1

Ebook

5
All Genres

6

Fantasy

2

Fiction and Literature

5

General Fiction

2

Science Fiction

2
July 2022 Batch
Giveaway Ended: July 25 at 06:00 pm EDT
Editor Donna Scott has scoured magazines, anthologies, webzines and obscure genre corners to discover the very best science fiction stories by British and British-based authors published during 2021. Two dozen stories, varying greatly in subject matter and style, from superb technological mystery to conflict on very alien worlds, from sweet, sad stories symptomatic of the tense times we have lived through to tales optimistic for better times to come, and even a dash of wry humour here and there for good measure.
Donna Scott is a director and recent chair of the BSFA, as well as being a distinguished poet, writer, and stand-up comedian. Donna is also a free-lance editor who has worked behind the scenes for a number of major publishers over the course of several years.
Contents
Introduction – Donna Scott
Distribution – Paul Cornell
Stealthcare – Liz Williams
Down and Out Under the Tannhauser Gate – David Gullen
Me Two – Keith Brooke and Eric Brown
The Andraiad – Tim Major
Bloodbirds – Martin Sketchley
Going Home – Martin Westlake
Okamoto's Lens – A.N. Myers
Love in the Age of Operator Errors – Ryan Vance
Stone of Sorrow – Peter Sutton
Henrietta – T.H. Dray
A History of Food Additives in 22nd Century Britain – Emma Levin
The Trip – Michael Crouch
The Ghosts of Trees – Fiona Moore
The Opaque Mirror of Your Face – Russell Hemmell
More Sea Creatures to See – Aliya Whiteley
The End of All Our Exploring – Gary Couzens
How Does My Garden Grow? – David Cleden
Girls' Night Out – Teika Marija Smits
Bar Hopping for Astronauts – Leo X. Robertson
In Aeturnus – Phillip Irving
A Spark in a Flask – Emma Johanna Puranen
A Pall of Moondust – Nick Wood
About the Authors
Acknowledgements
Media

Formats

Mobi, ePub, PDF

Delivery

I will send an attached digital file to member's email address

Genre

Science Fiction

Offered by

NewCon Press (Publisher)

Links
July 2021 Batch
Giveaway Ended: July 26 at 06:00 pm EDT
One of Storm Constantine's final literary projects. Storm chose her contributors carefully, wanting stories that take the reader deep into the strangeness of the landscape, where reality flickers like summer's heat. Weirdness generates inexplicable events that mystify and intrigue – asking questions that can never fully be answered. An empty car with a door hanging open by an endless field of wheat. Shimmering heat at midsummer, when something walks unseen in the sunlight. Rooks scattering in a ragged cloud revealing strange patterns upon the air. A sense of presence in the view below you as you reach the crest of a hill and look down; urban landscapes too – the strangeness within cities and their deepest corners… A story yet untold, a secret in the earth, a cry that shakes the air yet cannot be heard by the human ear. Something happened in these places, but what…? Contents: Between Skin and Sea – Cat Hellisen All That Dead Beauty – Andrew Hook The White Wood – Sarah Singleton Bog Goddess – Fiona McGavin Parrot's Drumble – Jordan Biddulph Ochre and Faience – Nerine Dorman A Hard Country to Die In – Paula Wakefield Lightening – Rose Biggin The Green Calling – Storm Constantine The Mydford Medusa – Freda Warrington Sanatorium – Grace Alice Evans The Lighthouse – Emma Coleman The Winter Wife – Kari Sperring The Road to Tempol – Wendy Darling Crabtree Field – Jessica Gilling On Venus Street – Liz Williams Work, Die, Heh Heh – Paul Houghton Borderline – J. E. Bryant Icarus Fall – John Kaiine About the Authors Available as mobi, epub, or pdf.
Media

Genres

General Fiction, Fiction and Literature

Offered by

NewCon Press (Publisher)

Links
December 2020 Batch
Giveaway Ended: December 28 at 06:00 pm EST
As they make preparations for Christmas, four fey sisters are drawn ever further from the familiar world of contemporary London and their Somerset home, from motorways, fashion design and music, into darker realms where no one is who they seem and nothing is to be trusted. When Serena's latest collection is mysteriously shredded on the eve of fashion week, the arrival of a wealthy benefactor seems a godsend, but is he all he seems? And what of the green-skinned girl Bee takes in after finding her cowering in a churchyard? How are these connected to the magpie changeling (who claims to be an angel) sent to watch over Stella or the timeslips Luna is experiencing with ever greater frequency now that she's pregnant? Something is coming for the Fallow sisters, for their friends and their lovers, but they have no idea what, and their mother Alys is no help as she's gone wandering again, though she did promise to return by Christmas, and December is already here... Rediscover your sense of wonder in this stunning follow-up to Comet Weather, which is just as thrilling, warming, and magical as the first book. Available as a Kindle, e-Pub, or pdf.
Media

Genres

Fantasy, Fiction and Literature

Offered by

NewCon Press (Publisher)

Links
February 2020 Batch
Giveaway Ended: February 24 at 06:00 pm EST
A contemporary tale of four fey sisters: Bee: the practical one, the lynchpin; still living in the family home of Mooncote in Somerset, where she has met an unconventional boyfriend that not even her sisters are aware of. Stella: a DJ, currently hanging around the Med after completing a series of gigs in Ibiza, she has vowed never to return to Mooncote following a row with Bee, but that was then... Serena: a single mother and fashion designer living in Notting Hill, increasingly uncertain of her relationship with long-term boyfriend Ben, a Camden-based rock singer and the son of a family friend. Luna: the youngest, head-strong and free-spirited, a wanderer living out of a horse-drawn van while she follows the Gypsy Switch: the route of horse fairs that spans the length of the country. The four Fallow sisters, scattered like the four winds but now drawn back together in their desire to find their mother, Alys – a former Vogue cover model – who has disappeared. They have help, of course, from the star spirits and the no-longer-living, but such advice tends to be cryptic and is hardly the most dependable of guides. A tale to reignite your sense of wonder; a story that reaches from present day London and rural Somerset to other places and other times... "In Comet Weather, Liz Williams has crafted something marvellous. This is a book full of wonder, horror, love, heartbreak, strangeness, and a gorgeously evoked sense of time and place. Between one page and the next you'll be laughing out loud, then shivering to your bones." – Alastair Reynolds. "This quick-witted and intriguing contemporary fantasy is fresh and original, while also harking back to the mythology of the English landscape and the classic literature that has inspired. A many-faceted delight." – Juliet E. McKenna "The flawless writing, engaging characters and intriguing plot of Comet Weather make the novel a perfect pleasure to read. Think Gaiman: imagination enriched with history, culture, geography, astronomy and archaeology, and a dash of romance." – Aurealis Available as a Kindle, e-pub or pdf file.
Media

Genres

Fantasy, Fiction and Literature

Offered by

NewCon Press (Publisher)

Links
January 2018 Batch
Giveaway Ended: January 29 at 06:00 pm EST
Available as a kindle, ePub or pdf. Far across the sands of Mars, deep within the walls of a dead city, something stirs; an awakening that threatens the return of a malice so ancient it is no longer remembered, except in darkest legend… Winterstrike is at war and the target of deadly bombardment. Even so, the last thing Canteley expects is for her mother to send her away, and in the company of her formidable aunt at that. Aunt Sulie is a member of the ruling Matriarchy, who wrap secrets around them as thick as winter snowfall. When Sulie takes her to the abandoned city of Tharsis, Cateley little imagines that the trip will unearth secrets long hidden and reveal the truth behind her own past. Recurring images of a blood red tower standing in the shadow of Olympus Mons have haunted her dreams. Now, at last, she has a chance to discover what they mean. In Phosphorus, Liz Williams returns to the harsh Mars of her critically acclaimed novels Banner of Souls (shortlisted for the Arthur C. Clarke Award) and Winterstrike, delivering a tale laden with mystery and menace, as the Red Planet's bloody past and troubled present collide.
Media

Genres

General Fiction, Science Fiction, Fiction and Literature

Offered by

NewCon Press (Publisher)

Link
Legacy Member Giveaway Batch
Giveaway Ended: November 29, 2016 at 03:05 pm EST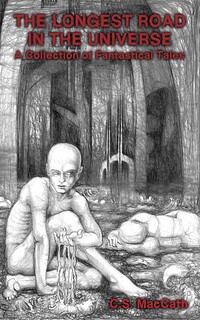 Quick Look
Paper
Three broken people; a monk bearing a terrible scar, a warrior facing a terrible sorrow, a woman hiding a terrible past face a relentless army so hard to defeat it might as well be invincible. Genetically-altered residents of a volcanic desert struggle to preserve their intangible culture as nanomachines transform the world around them. A population of slaves engineered to love its masters comes to grips with their sudden absence, while one man travels to the center of the galaxy to find out where they have gone. Supermassive black holes at the end of the universe contemplate the cacophony before and the quiet ahead; mourning, eulogizing, and creating something altogether new. These and other stories await you in THE LONGEST ROAD IN THE UNIVERSE: A COLLECTION OF FANTASTICAL TALES by Washington Science Fiction Association Small Press Award shortlisted and Pushcart Prize nominated author C.S. MacCath.
Media

Paper

Genre

Fiction and Literature

Offered by

csmaccath (Author)

Links