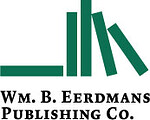 Independent publisher since 1911, Wm. B. Eerdmans Publishing Company produces intellectual and literary books on ethics, theology, biblical studies, and social issues, as well as Bible commentaries and dictionaries. Eerdmans strives to publish excellent books on both sides of an issue to engage minds and broaden understandings.
August 2012 Batch
Giveaway Ended: August 27 at 06:00 pm EDT
For Pope Benedict XVI, "the liturgical year is a great voyage of faith on which the Church sets us out." The feast days in the Church's liturgical calendar follow the major events of Jesus' life as recounted in the Gospels. This cycle provides a rhythm to the life of the Church and helps Christians better understand the divine mystery. Especially in our secularized society, liturgical practices guide and deepen our path, centering our focus on Christ and teaching us how to live. Beginning with Advent and concluding with the feast of Christ the King, Holy Days presents selected homilies that the Pope has pronounced over the course of the liturgical year in Rome. The book is organized by season and feast days, with brief introductions. This short volume will be a welcome resource for priests and parishioners seeking to focus their minds in preparation for worship.
July 2012 Batch: 2 Books Offered
Giveaway Ended: July 30 at 06:00 pm EDT
The search for God is a staple of human history. Finding God records sixty first-person accounts of Christians who found God in different ways and the impact this discovery made on their lives and on the world in which they lived. Ranging from the first century to the present, Finding God is a fascinating digest of conversion stories from a wide variety of people -- from the apostle Paul to the rock musician Bono. These narratives together demonstrate the remarkable diversity of spiritual journeys and the dramatic changes that can result from encounters with God. Both instructive and inspirational, Finding God will expand horizons and deepen the faith of those who seek insight into the age-old spiritual quest to find God.
Acceptable Words offers prayers that correspond with each stage of the writer's work -- from finding inspiration to penning the first words to "offering it to God" at completion. Gary Schmidt and Elizabeth Stickney, experienced writers themselves, introduce each chapter of prayers with pithy pastoral reflections that will encourage writers in their craft. This welcome spiritual resource for writers includes both ancient and contemporary poems and prayers -- some of which were written especially for this volume. A thoughtful gift for any writer, Acceptable Words will accompany writers on their spiritual journey, lending words of praise and petition specifically crafted to suit their unique vocation.
May 2012 Batch
Giveaway Ended: May 29 at 06:00 pm EDT
The purpose of this book is to introduce the New Testament to those who have never read it. Ronald Allen offers a truly elementary guide to the New Testament's world, its story, and its message. Reading the New Testament for the First Time walks readers through the New Testament, covering key topics like these: - how to find one's way around the New Testament - how and when the New Testament was written important characters like Jesus, Paul, and the twelve disciples - big ideas found in the New Testament, including love, righteousness, and the kingdom of God - how to apply the New Testament to our lives today - and much more!
March 2012 Batch
Giveaway Ended: March 26 at 06:00 pm EDT
When David Lawther Johnson was a freshman at Harvard, he felt displaced, homesick, and overwhelmed by new intellectual challenges. He wrote to his dad, a Presbyterian pastor in Indiana, seeking counsel, whereupon the two began an extended exchange of letters. After his father's recent death, David rediscovered these letters from long ago and was reminded of the candid and valuable advice about faith and doubt and life they contained -- wisdom that had shaped David's life as a lawyer, community leader, and parent. Learning from My Father captures the poignant relationship between a father and a son with writing that is beautifully nuanced, deeply compelling, and utterly readable. Dealing with essential life questions -- belief, love, evil, death, eternal life, and more -- this memoir is refreshingly honest and full of down-to-earth wisdom.
February 2012 Batch
Giveaway Ended: February 29 at 06:00 pm EST
Blessed are the poor in spirit. Blessed are the meek. A city set on a hill cannot be hidden. Judge not, that you be not judged. You cannot serve God and mammon. Though these sayings from Jesus' Sermon on the Mount are very familiar - even to those who have never stepped inside a church or read the Bible - many people, including Christians, still do not understand Jesus' real message and its implications for everyday life. Now in mid-life, Addison Hodges Hart returns - bringing with him his own failures, regrets, joys, and sadnesses - to sit at the feet of Jesus and listen once more to his words. Join him as he encounters the Sermon on the Mount afresh, passage by passage, asking "How should I live the rest of my life? What does it mean to follow Jesus?"
December 2011 Batch
Giveaway Ended: December 19 at 06:00 pm EST
Adam and Eve worked. Jacob and Joseph worked. So did Ruth, David, Daniel, Jonah, Martha, Priscilla and Aquila, Paul — and most people in the Old and New Testaments. In Work Matters marketplace theology expert R. Paul Stevens revisits more than twenty biblical accounts — from Genesis to Revelation — exploring through them the meaning of every sort of work, manual or intellectual, domestic or commercial. Taken together, his short, pithy reflections on these well-known Bible passages add up to a comprehensive, Bible-based theology of work — one that will be equally useful for seminars, classes, Bible studies, and individuals seeking to grasp more fully the theological dimensions of their daily labor.
November 2011 Batch
Giveaway Ended: November 28 at 06:00 pm EST
Tolerance currently occupies a very high place in Western culture, a bit like motherhood and apple pie in 1950s America: it is considered gauche, even boorish, to question it. In The Intolerance of Tolerance, however, questioning tolerance — or, at least, contemporary understandings of it — is exactly what D. A. Carson does. Carson traces the subtle but enormous shift in the way we have come to understand tolerance over recent years — from defending the rights of those who hold different beliefs to affirming all beliefs as equally valid and correct. He reviews the history of this shift and discusses its implications for culture today, especially how it bears on democracy, discussions about good and evil, and Christian truth claims. Using real-life examples that will sometimes arouse laughter and sometimes make the blood boil, Carson argues not only that the "new tolerance" is socially dangerous and intellectually debilitating but also that it actually leads to genuine intolerance of all who struggle to hold fast to their beliefs.