Atwoodians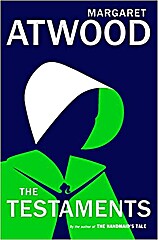 This group has become officially dormant. It happens. If you want to revive this group, or create a new group on the same topic,
see this page
.
For fans of Margaret Atwood's novels, short fiction, essays...and all other things Atwoodian. Share your thoughts.

NOTE: This group was started in the early days of LT and who knew that most author-based groups wouldn't last. Some of us are around, and we stop in from time to time. The group does go dormant from time to time. Guess most of us would rather be reading!
TopicTopic
Messages
Last Message
Handmaid's Tale, Season 4 Discussion (Spoiler Alert, Obviously)
36

unread

/ 36

dukedom_enough

,

June 2021

Are you reading a book by or about Margaret Atwood currently?
32

unread

/ 32

avaland

,

November 2020

THE TESTAMENTS: Want to talk about it?
7

unread

/ 7

framboise

,

March 2020

The Handmaid's Tale - still relevant?
13

unread

/ 13

krazy4katz

,

September 2019

The Handmaid's Tale - May 2008 - Rolling Discussion.
60

unread

/ 60

avaland

,

December 2018

Atwood at Stratford Festival / Forum with Antoni Cimolino
1

unread

/ 1

frahealee

,

October 2018

Audio Interview with Margaret Atwood, Literary Tourist
2

unread

/ 2

avaland

,

February 2018

Margaret Atwood's Poetry
13

unread

/ 13

avaland

,

February 2018

Atwood interview on BBC
1

unread

/ 1

MarthaJeanne

,

October 2016

The Year of the Flood
23

unread

/ 23

avaland

,

September 2015

Atwood News & other notes of interest
52

unread

/ 52

avaland

,

September 2015

THE ROBBER BRIDE - rolling book discussion - July '09 onwards...
19

unread

/ 19

avaland

,

August 2012

Atwood book of the month for the Mayor of Toronto.
2

unread

/ 2

Yells

,

May 2012

ATWOODIANS MESSAGE BOARD
70

unread

/ 70

avaland

,

July 2011

Surfacing - Oct-Dec 2008 - Rolling Discussion
39

unread

/ 39

LisaMorr

,

February 2011

Books We Have in Common
17

unread

/ 17

avaland

,

October 2010

Books about Margaret Atwood and her writing.
2

unread

/ 2

avaland

,

June 2010

1010 Group -- Atwood in April
4

unread

/ 4

Nickelini

,

April 2010

The Blind Assassin --- SPOILER ALERT!!
1

unread

/ 1

krazy4katz

,

March 2010

Word on the Street
5

unread

/ 5

Cait86

,

September 2009

Blind Assassin (Might have spoilers)
9

unread

/ 9

alr234

,

July 2009

Other Interesting CANADIAN WRITERS
8

unread

/ 8

avaland

,

June 2009

2009 GROUP READ?
23

unread

/ 23

inkspot

,

May 2009

Go on Holidays with Margaret Atwood
8

unread

/ 8

avaland

,

March 2009

Atwood & the Giller Prize
2

unread

/ 2

avaland

,

November 2008

Cat's Eye
3

unread

/ 3

wonderlake

,

November 2008

ATWOOD Book Swap or Giveaway
10

unread

/ 10

avaland

,

October 2008

Atwood blurbs on other author's books...
8

unread

/ 8

avaland

,

October 2008

OCT - DEC GROUP READ?
20

unread

/ 20

avaland

,

September 2008

Oryx and Crake: Group Read August 2008
25

unread

/ 25

avaland

,

September 2008

Other authors you might recommend to Atwood fans...
30

unread

/ 30

Such_A_Kassandra

,

July 2008

VOTE! for Summer Group Read
22

unread

/ 22

janeajones

,

June 2008

Atwood and comics
3

unread

/ 3

avaland

,

June 2008

The Robber Bride
2

unread

/ 2

beatles1964

,

June 2008

What is your favorite Margaret Atwood novel/short fiction collection and why?
22

unread

/ 22

thioviolight

,

May 2008

Tell us how you discovered Margaret Atwood?
32

unread

/ 32

mmignano11

,

April 2008

GROUP READ? The Handmaid' s Tale
33

unread

/ 33

Caroline_McElwee

,

April 2008

Moral Disorder
6

unread

/ 6

neverlistless

,

April 2008

THE KITCHEN - come on in for a cuppa
23

unread

/ 23

kaelirenee

,

April 2008

Margaret speaks...
7

unread

/ 7

avaland

,

March 2008

Bodily Harm
5

unread

/ 5

annakarina

,

January 2008

Ainsley from Edible Woman
1

unread

/ 1

nicoletort

,

January 2008

What other authors do we Atwood lovers read?
6

unread

/ 6

bostonbibliophile

,

December 2007

Year End message!
1

unread

/ 1

avaland

,

December 2007

Margaret Atwood Society
2

unread

/ 2

avaland

,

October 2007

The Atwood 2007 Challenge
14

unread

/ 14

avaland

,

August 2007

Isn't this how it starts?
2

unread

/ 2

avaland

,

July 2007

The Women of Margaret Atwood's novels...
6

unread

/ 6

kathrynnd

,

July 2007

Critical Perspective of Atwood
5

unread

/ 5

urduha

,

July 2007

Oryx and Crake: A question
4

unread

/ 4

andrewspong

,

June 2007
This is a feature balloon