Erlesenes Deutschland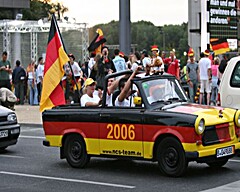 Morde in der Pfalz, Kriegswirren in Hessen, Abenteuer zur See in der Deutschen Bucht: Wie die Gruppe "Reading the States" oder "Reading the Towns and Counties" soll diese Gruppe eine kleine Bibliographie der deutschen Regionen werden. Oft erfährt man aus Romanen mehr über eine Gegend, als aus Sachbüchern. Hier könnt Ihr Werke eintragen und kommentieren, die in einer bestimmten Region in Deutschland spielen oder diese beschreiben.
Für jedes Land gibt es einen Fred (einen Diskussionsfaden :-) ), weitere Freds werden dann bei Bedarf für andere deutsche Regionen (historisch) hinzugefügt.

This group wants to collect stories about Germans here and abroad. Like "Reading the States" or "Reading the Towns and Counties" this group is for collecting works (fiction and non-fiction) that are set in or are about a certain Land of Germany.
For every Land there is a thread, and there can be threads added for other regions (historical German regions).

TopicTopic
Messages
Last Message
Hamburg
8

unread

/ 8

BesterikEz0815

,

November 25, 2022

personensuche persondata.toolforge.org verlinkt tausende autoren zu LibraryThing
1

unread

/ 1

gangleri

,

February 2022

Sachsen-Anhalt
3

unread

/ 3

BesterikEz0815

,

October 2021

erlesenes Griechenland
2

unread

/ 2

littlegreycloud

,

August 2013

Hessen
7

unread

/ 7

spiphany

,

August 2013

Nordrhein-Westfalen
17

unread

/ 17

spiphany

,

August 2013

Thüringen
4

unread

/ 4

littlegreycloud

,

June 2013

Schleswig-Holstein
7

unread

/ 7

Zurpel

,

February 2013

Bayern
11

unread

/ 11

Zurpel

,

February 2013

Lexikon der deutschen Krimi-Autoren - Internet-Edition
3

unread

/ 3

cowdude101

,

September 2012

Krimi-Forum
1

unread

/ 1

guurtjesboekenkast

,

June 2012

Berlin
13

unread

/ 13

littlegreycloud

,

December 2011

Niedersachsen
10

unread

/ 10

littlegreycloud

,

December 2011

Baden-Württemberg
12

unread

/ 12

CS_Kenji

,

November 2011

Brandenburg
3

unread

/ 3

littlegreycloud

,

August 2011

Mecklenburg-Vorpommern
7

unread

/ 7

littlegreycloud

,

December 2010

Saarland
2

unread

/ 2

yapete

,

January 2010

Sachsen
3

unread

/ 3

littlegreycloud

,

December 2009

Kartographische Darstellung der Handlungsorte bei Handlungsreisen. de
2

unread

/ 2

kleo

,

October 2007

Bremen
6

unread

/ 6

buxul

,

September 2007

Der thread zum Schwatzen.
3

unread

/ 3

derdickemax

,

March 2007

Wie historisch sind wir?
6

unread

/ 6

GirlFromIpanema

,

December 2006

Rheinland-Pfalz
2

unread

/ 2

rfb

,

December 2006
This is a feature balloon