BritWit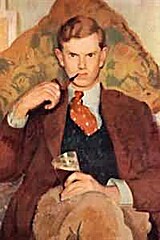 This group has become officially dormant. It happens. If you want to revive this group, or create a new group on the same topic
see this page
.
"Is your maid called Florence?"
"Her name is Florinda."
"What an extraordinary name to give a maid!"
"I did not give it to her; she arrived in my service already christened."
"What I mean is," said Mrs. Riversedge, "that when I get maids with unsuitable names I call them Jane; they soon get used to it."
"An excellent plan," said the aunt of Clovis coldly; "unfortunately I have got used to being called Jane myself. It happens to be my name."
(Saki - The Secret Sin of Septimus Brope)

A group for admirers of that most sublime and bubbly brand of humor - the British wit. Feel free to discuss and make recommendations; all of you joining this group probably have more knowledge on the subject than me. I grow weary of my passions before they can reach any depth.
TopicTopic
Messages
Last Message
The Diary of a Nobody
5 unread / 5

roomsofbooks

,

July 2018

Books that are not strictly "humor" but are very funny
5 unread / 5

roomsofbooks

,

July 2018

BritWit Message Board
15 unread / 15

Novak

,

April 2018

Witty quotes
2 unread / 2

Orbasan

,

September 2017

Kyril Bonfiglioli
9 unread / 9

donwells

,

May 2013

Un Po'di Mu--Celestial Mozartino
12 unread / 12

europhile

,

August 2008

Take My Camel, Dear
25 unread / 25

devenish

,

January 2008

"The Double Life of Saki" on BBC4
9 unread / 9

alexa_d

,

May 2007

Mrs Caudle's Curtain Lectures
6 unread / 6

thorold

,

May 2007

Stephen Lister
2 unread / 2

miss_read

,

April 2007
This is a feature balloon