Club Read 2017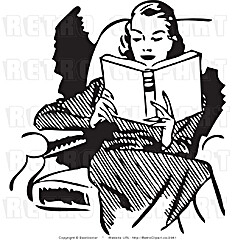 This group has become officially dormant. It happens. If you want to revive this group, or create a new group on the same topic,
see this page
.
Welcome to Club Read 2017!
We are a group of serious readers who are varied and thoughtful in our reading and like to log/journal our reading and follow what others are reading. Please take a look around to see if we're the kind of readers you'd like to hang with. Many of us have been together on earlier versions of Club Read, but we always welcome new readers!

What to do: Create your own thread, naming it whatever you like but please include your name (username and/or other preferred moniker) in the title. This is so others can easily find you, and keep things less confusing. Feel free to include any and all reading you do, whatever you'd like to journal. Also note, a few lines of commentary about each entry, even if you are linking to your review elsewhere, encourage interest and thus conversation.

This group is for its members. Please feel free to start threads that you think would be of interest in addition to the standard ones.

And have fun reading!

Who We Are
Introduce Yourself and Greet Your Fellow Club Readers

Club Cucina is where we chat about all things food!
Questions for the Avid Reader is our thread for answering biweekly questions about our book habits.
The Message Board is for anything general regarding the group, questions etc.

Other Groups of Interest
Reading Globally, this group reads from regions/themes around the globe.
Monthly Author Reads, this group reads a different author each month, chosen by group vote.
Horror!, this group reads a different category of horror every month.
Literary Centennials, a group for celebrating centennial birthdays of major authors by reading their works.
TopicTopic
Messages
Last Message
edwinbcn - Better luck with ClubRead in 2017, Part 1
50

unread

/ 50

edwinbcn

,

November 2022

poetry
10

unread

/ 10

edwinbcn

,

July 2021

Bragan's Tenth Thingaversary Reading, Part 4
87

unread

/ 87

bragan

,

April 2018

Bridgey's 2017 Reading
67

unread

/ 67

janemarieprice

,

February 2018

SassyLassy on the Other Side
41

unread

/ 41

SassyLassy

,

January 2018

Alphaorder's (Nancy's) 2017 Reads
31

unread

/ 31

alphaorder

,

January 2018

chlorine comes late to the party
66

unread

/ 66

chlorine

,

January 2018

Avaland & Dukedom_Enough's 2017 Reading
156

unread

/ 156

avaland

,

January 2018

wandering_star's ninth year in Club Read - part 2
45

unread

/ 45

SassyLassy

,

January 2018

NanaCC's (Colleen's) 2017 Reading
241

unread

/ 241

NanaCC

,

January 2018

Mabith's 2017 Reads (Meredith) Part II
205

unread

/ 205

mabith

,

January 2018

qebo's 2017 books (1)
118

unread

/ 118

qebo

,

January 2018

Arubabookwoman Is Back In 2017
209

unread

/ 209

valkyrdeath

,

January 2018

Valkyrdeath's 2017 Reading Record
193

unread

/ 193

valkyrdeath

,

January 2018

Rebeki finds refuge in reading in 2017
129

unread

/ 129

Rebeki

,

January 2018

Jennifer's (japaul22) 2017 Reading
288

unread

/ 288

japaul22

,

January 2018

Ipsoivan reads 2017
81

unread

/ 81

dchaikin

,

January 2018

dchaikin tries really hard not think about the world - part 2
173

unread

/ 173

dchaikin

,

January 2018

thorold is watching the leaves turn in Q4
105

unread

/ 105

thorold

,

January 2018

Nickelini Reads 2017, Part 1
132

unread

/ 132

Nickelini

,

January 2018

Stretch 2017 reading and pencil things.
34

unread

/ 34

stretch

,

January 2018

tonikat, knee deep in nougat, 2017
118

unread

/ 118

tonikat

,

January 2018

Rachbxl's reading for 2017
89

unread

/ 89

rachbxl

,

January 2018

jjmcgaffey's reading in 2017
157

unread

/ 157

jjmcgaffey

,

December 2017

kidzdoc explores the African diaspora in 2017, Part 2
45

unread

/ 45

kidzdoc

,

December 2017

RidgewayGirl Reads in 2017 -- Part Three
109

unread

/ 109

RidgewayGirl

,

December 2017

***Questions for the Avid Reader: Part II
121

unread

/ 121

SassyLassy

,

December 2017

Eliz_M searches for the Ultimate Question
74

unread

/ 74

ELiz_M

,

December 2017

Is Florence still reading in 2017?
55

unread

/ 55

FlorenceArt

,

December 2017

Vivienne's reading in 2017 - Part 3
145

unread

/ 145

NanaCC

,

December 2017

Narilka reads in 2017
133

unread

/ 133

Narilka

,

December 2017

Baswoods Books 2017
208

unread

/ 208

baswood

,

December 2017

koalamom 2017
32

unread

/ 32

koalamom

,

December 2017

Club Read 2018 --- Getting ready for our 10th year
44

unread

/ 44

avaland

,

December 2017

searching for a book
4

unread

/ 4

cindydavid4

,

December 2017

Torontoc reads and also sees films in 2017
199

unread

/ 199

torontoc

,

December 2017

Club read 2017: Lunarreader in 2017
33

unread

/ 33

Lunarreader

,

December 2017

Aunt Marge and the kids read in 2017
183

unread

/ 183

avaland

,

December 2017

Simone2's reads in 2017
268

unread

/ 268

Simone2

,

December 2017

*** What are you reading now? - Part 4
184

unread

/ 184

bragan

,

December 2017

Fuzzy Patter's Reads in 2017
37

unread

/ 37

fuzzy_patters

,

December 2017

SassyLassy and the Great Outdoors + ... More 19th Century
158

unread

/ 158

SassyLassy

,

December 2017

Cariola's 2017 Reading Log
171

unread

/ 171

Cariola

,

December 2017

OscarWilde's reading log 2017
64

unread

/ 64

OscarWilde87

,

December 2017

Marcus Bastos Readings 2017
57

unread

/ 57

MarcusBastos

,

December 2017

labfs39 returns in 2017
60

unread

/ 60

markon

,

December 2017

Your Best Books of 2017
2

unread

/ 2

avaland

,

December 2017

Avidmom's Colorful Reading - Part 2
44

unread

/ 44

avidmom

,

December 2017

***Interesting Articles
51

unread

/ 51

lilisin

,

December 2017

Alison's Sloth-like 2017 Reading
219

unread

/ 219

AlisonY

,

December 2017

***Message Board
29

unread

/ 29

avaland

,

December 2017

thorold hopes he may sit and rightly spell in Q3
55

unread

/ 55

thorold

,

December 2017

Adulting Disrupts MsNick's Reading - A Sad Little List for 2017
20

unread

/ 20

MsNick

,

December 2017

**Introduce Yourself and Greet Your Fellow Club Readers
102

unread

/ 102

AlisonY

,

December 2017

TheYankeeIrregular's List of Currently Reading
8

unread

/ 8

japaul22

,

November 2017

***Club Cucina
49

unread

/ 49

mabith

,

November 2017

oandthegang, somewhat daunted, sets out on another year
31

unread

/ 31

chlorine

,

November 2017

kaylaraeintheway Reads in 2017
118

unread

/ 118

chlorine

,

November 2017

Lilisin in 2017
34

unread

/ 34

chlorine

,

November 2017

RidgewayGirl Reads in 2017 -- Part Two
172

unread

/ 172

Nickelini

,

October 2017

The Passing of RebeccaNYC
35

unread

/ 35

DetailMuse

,

October 2017

Bragan's Tenth Thingaversary Reading, Part 3
92

unread

/ 92

bragan

,

October 2017

wandering_star's ninth year in Club Read
151

unread

/ 151

wandering_star

,

October 2017

janeajones' hopeful 2017 thread
62

unread

/ 62

janeajones

,

September 2017

Rebeccanyc Reads Mysteries . . . and Some Other Books
34

unread

/ 34

dchaikin

,

September 2017

Cait's 2017 Reading
48

unread

/ 48

RidgewayGirl

,

September 2017

Vivienne's reading in 2017 - Part 2
199

unread

/ 199

VivienneR

,

August 2017

*** What are you reading now? - Part 3
195

unread

/ 195

AlisonY

,

August 2017

A new year.. new discoveries: Yells
35

unread

/ 35

Yells

,

August 2017

ChocolateMuse enters sheepishly, 2017
27

unread

/ 27

theaelizabet

,

August 2017

Check out my book, "Awakening Kings and Princes Volume I"
2

unread

/ 2

John26Jones

,

July 2017

I made a site to help you find good nonfiction books
1

unread

/ 1

zhaozike

,

July 2017

Mabith's 2017 Reads (Meredith)
214

unread

/ 214

mabith

,

July 2017

I Want to Kill Photobucket!
17

unread

/ 17

avaland

,

July 2017

Eliz_M contemplates Life, the Universe, and Everything
102

unread

/ 102

ELiz_M

,

July 2017

Bragan's Tenth Thingaversary Reading, Part 2
108

unread

/ 108

bragan

,

July 2017

*** Favorite Reads for Q2
11

unread

/ 11

Simone2

,

July 2017

kidzdoc explores the African diaspora in 2017
153

unread

/ 153

kidzdoc

,

July 2017

thorold pursues Things unattempted yet in Prose or Rhime in Q2
82

unread

/ 82

thorold

,

July 2017

Trish's Books 2017
3

unread

/ 3

booklover2004

,

June 2017

dchaikin - forward and backward
291

unread

/ 291

mabith

,

June 2017

BoekFunk
1

unread

/ 1

fistfulofbooks

,

June 2017

***Questions for the Avid Reader
206

unread

/ 206

SassyLassy

,

June 2017

*** What are you reading now? - Part 2
187

unread

/ 187

Nickelini

,

May 2017

**** Favorite Reads for Q1
16

unread

/ 16

arubabookwoman

,

May 2017

Lisa (805's) Quasi Reading Unplan, Version 2017
37

unread

/ 37

This-n-That

,

May 2017

Avidmom's Colorful Reading 2017
29

unread

/ 29

avidmom

,

April 2017

Bragan's Tenth Thingaversary Reading, Part 1
148

unread

/ 148

bragan

,

April 2017

Annie's Reading Diary 2017, Part 1
85

unread

/ 85

AnnieMod

,

April 2017

RidgewayGirl Reads in 2017 -- Part One
192

unread

/ 192

RidgewayGirl

,

April 2017

Vivienne's reading in 2017
158

unread

/ 158

VivienneR

,

April 2017

JustJoey reads in 2017
36

unread

/ 36

Trifolia

,

April 2017

thorold finds frosty fiction for the first quarter of 2017
62

unread

/ 62

thorold

,

April 2017

Paul's Club Reads in 2017 - Around the World in Eighty Books
63

unread

/ 63

PaulCranswick

,

March 2017

amysisson's 2017 book list
1

unread

/ 1

amysisson

,

March 2017

*** What are you reading now? - Part 1
189

unread

/ 189

bragan

,

March 2017

Reckless Read List 2017 (Reckless Reader)
3

unread

/ 3

RecklessReader

,

February 2017

Jargoneer's Daffery and Buttergams
10

unread

/ 10

avaland

,

February 2017

Ursula Keeps On Keepin' On
67

unread

/ 67

ursula

,

February 2017

DieFledermaus attempts to read in 2017
23

unread

/ 23

labfs39

,

February 2017
This is a feature balloon