2020 BIG FAT BOOK CHALLENGE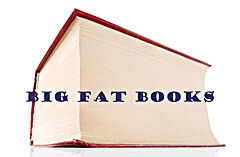 This group has become officially dormant. It happens. If you want to revive this group, or create a new group on the same topic,
see this page
.
This is for those who like really Big Books, for books to qualify they MUST be over 500 or more pages. If this type of book is your bag then why not join and log your Big Books as you finish them.
TopicTopic
Messages
Last Message
2020 BIG FAT BOOKS RUNNING TOTAL
354 unread / 354

LisaMorr

,

January 2021

Lisa's BFBs in 2020
15 unread / 15

LisaMorr

,

January 2021

Eadie's 2020 Big Fat Books
42 unread / 42

EadieB

,

January 2021

2021 INFO
4 unread / 4

johnsimpson

,

January 2021

John's 2020 BIG FAT BOOKS
70 unread / 70

johnsimpson

,

January 2021

General BFB Discussion
12 unread / 12

connie53

,

December 2020

GSM's BFB's in 2020
7 unread / 7

gsm235

,

December 2020

Rhea reads the 6 Great Chinese Classical Novels.
84 unread / 84

Settings

,

December 2020

Connie's BFB's in 2020
62 unread / 62

connie53

,

December 2020

Leona's BFB reads in 2020
6 unread / 6

johnsimpson

,

December 2020

2020 BFB 'hefty' haul x12 for frahealee
9 unread / 9

johnsimpson

,

December 2020

Robin (rretzler) Likes Big Books...
4 unread / 4

johnsimpson

,

December 2020

BFN challenge.
7 unread / 7

johnsimpson

,

December 2020

flo's fat volumes 2020
8 unread / 8

johnsimpson

,

December 2020

rainpebble's 2020 BFBs
11 unread / 11

johnsimpson

,

December 2020

edwinbcn wants to eliminate more door stoppers from his TBR
16 unread / 16

johnsimpson

,

December 2020

Marell's Big Book Reads
12 unread / 12

johnsimpson

,

December 2020

Mary_Mignano-I Just Love Big Fat Books!
6 unread / 6

johnsimpson

,

December 2020

jenknox's BFB list: Wuxia!
7 unread / 7

johnsimpson

,

December 2020

DreamWeaver's Big Books
12 unread / 12

johnsimpson

,

December 2020

Andrew's 2020 BFBs
31 unread / 31

johnsimpson

,

December 2020

Jayne Reads Big In 2020
10 unread / 10

johnsimpson

,

December 2020

Hemlokgang's BFB Challenge 2020
7 unread / 7

johnsimpson

,

December 2020

May_Mignano-List of biggies💐🐛🦋🐝
3 unread / 3

johnsimpson

,

December 2020

MissWatson's BFBs in 2020
17 unread / 17

johnsimpson

,

December 2020

Nebula_21's Big Fat Book Challenge 2020
18 unread / 18

johnsimpson

,

December 2020

Bryan's Big Books 2020
100 unread / 100

johnsimpson

,

December 2020

Jean Loves Big Books
39 unread / 39

johnsimpson

,

December 2020

Kathy's 2020 Big Fat Books
34 unread / 34

connie53

,

December 2020

Gail's BFB
13 unread / 13

Matke

,

December 2020

jim's BFB List
5 unread / 5

JayneCM

,

January 2020
This is a feature balloon