Cartoons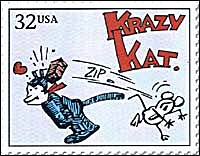 This group has become officially dormant. It happens. If you want to revive this group, or create a new group on the same topic,
see this page
.
From children's classics like Calvin and Hobbes to cultural and political humor like Bloom County and Doonesbury to the largely inexplicable genius of Krazy Kat and the Far Side...A picture may be worth a thousand words, but a picture and a well-placed speech bubble is priceless.

This is a group for the sort of comics you find (or *used* to find) at the back of your Sunday paper, not the graphic novel variety. -- Not that there's anything wrong with that -- but there's already a "Comics" group devoted to comic books.
TopicTopic
Messages
Last Message
comic strip writers for gun control
3 unread / 3

LitClique

,

April 2013

What strip is the new Calvin & Hobbes?
5 unread / 5

Helcura

,

July 2012

NEW BOOK
4 unread / 4

Tbloom

,

July 2010

Cartoons Message Board
16 unread / 16

varielle

,

March 2010

Great YA Cartoon Book about Sex
1 unread / 1

beidlerp

,

October 2009

Foxtrot puttering out
5 unread / 5

Kellswitch

,

August 2009

LT staff
3 unread / 3

flabuckeye

,

February 2008

Book and Library related
2 unread / 2

legallypuzzled

,

March 2007

Calvin and Hobbes
7 unread / 7

akenned5

,

March 2007

Embarrassing Cartoons
4 unread / 4

burnit99

,

March 2007

Pearls Before Swine
4 unread / 4

burnit99

,

March 2007
This is a feature balloon