Monks, Monasteries and Monasticism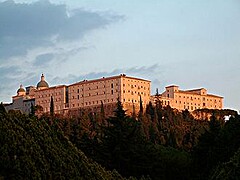 This group has become officially dormant. It happens. If you want to revive this group, or create a new group on the same topic,
see this page
.
A group for discussing all things monastic: fictional or historical. Whether your penchant is for curling up with Cadfael or careering round a Carthusian monastery this group is for you.
TopicTopic
Messages
Last Message
Monastery Economics
2

unread

/ 2

John5918

,

December 2021

Eastern Orthodox Christian monasticism
2

unread

/ 2

Vladimir_Sorak

,

September 2021

Monks and Pets
8

unread

/ 8

varielle

,

August 2021

Monasteries, Abbeys, etc. that you have visited
9

unread

/ 9

eschator83

,

January 2021

Fictional Monks
11

unread

/ 11

varielle

,

January 2021

Monks in the News
24

unread

/ 24

varielle

,

February 2020

Something for the Sisters
1

unread

/ 1

varielle

,

June 2019

Dominicans
7

unread

/ 7

SPPColumbus

,

December 2018

Contemplative but active
1

unread

/ 1

John5918

,

November 2018

Favorite Monastic Books
8

unread

/ 8

PossMan

,

September 2018

Hermits
2

unread

/ 2

eschator83

,

August 2017

Monkish Humor
6

unread

/ 6

varielle

,

March 2017

Hello
43

unread

/ 43

Dilara86

,

July 2014

Books by Monks
7

unread

/ 7

vpfluke

,

March 2014

Monks in the movies
3

unread

/ 3

Phanouria

,

March 2013

My journey to become a third-order Franciscan.
1

unread

/ 1

Jason_Hess

,

March 2012

Karen Armstrong memoirs
2

unread

/ 2

vpfluke

,

June 2008

The Cloister Walk
8

unread

/ 8

vpfluke

,

March 2008

Into Great Silence
7

unread

/ 7

liamfoley

,

March 2008

The Monastery
4

unread

/ 4

medievalmama

,

March 2008

The Monks in Burma
3

unread

/ 3

varielle

,

March 2008

New Arrivals
1

unread

/ 1

Mr.Durick

,

September 2007
This is a feature balloon