Lingua Latina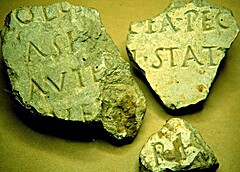 This group has become officially dormant. It happens. If you want to revive this group, or create a new group on the same topic,
see this page
.
For anyone who enjoys Latin, the language of the Romans, the western Church, and -- until recently -- academics of all stripes.

This group also serves as the discussion forum for the translation of Librarything into Latin.
TopicTopic
Messages
Last Message
Lingua Latina Message Board
58

unread

/ 58

LolaWalser

,

October 2020

Textbooks
29

unread

/ 29

ElenaGwynne

,

September 2013

Latin to amuse
24

unread

/ 24

MyopicBookworm

,

April 2013

Any homeschoolers out there?
12

unread

/ 12

ironjaw

,

September 2011

What was your Latin Learning Experience?
20

unread

/ 20

Feicht

,

April 2011

Help with D'Ooge readng material
7

unread

/ 7

Feicht

,

October 2010

Questions for People Who Know More Latin (and Greek) than You Do
15

unread

/ 15

varielle

,

July 2010

Situs Linguae Latinae Interretialis
2

unread

/ 2

rolandperkins

,

May 2010

Learning Latin from basics!
31

unread

/ 31

vpfluke

,

May 2010

Epistulae
5

unread

/ 5

barlow304

,

April 2010

About the language...
5

unread

/ 5

messpots

,

January 2010

History of Latin
13

unread

/ 13

rolandperkins

,

December 2009

LibraryThing in Latin : month's names & dates
12

unread

/ 12

LizzieD

,

July 2009

Translating LT
5

unread

/ 5

messpots

,

June 2009

Style: which forms to use where
8

unread

/ 8

messpots

,

April 2009

Amo. amas, amat and all that
2

unread

/ 2

Feicht

,

March 2009

gift ideas
3

unread

/ 3

trekmom3

,

November 2008

Oxford Latin Dictionary on sale for 60% off
3

unread

/ 3

trekmom3

,

November 2008

de re libraria
17

unread

/ 17

MyopicBookworm

,

November 2007

The Blackwell history of the latin language
1

unread

/ 1

hnn

,

November 2007

conversational Latin
12

unread

/ 12

Passer_Invenit

,

October 2007

Deciphering the Reverend's gravestone
8

unread

/ 8

job2007

,

September 2007

Iter ____ : "Journey to where we are"
3

unread

/ 3

rjohara

,

May 2007

the irony
1

unread

/ 1

Rymbeld

,

April 2007

Special Sauce
3

unread

/ 3

boekerij

,

March 2007

Tags for latin books
3

unread

/ 3

Romanus

,

March 2007

Latin grammars
4

unread

/ 4

ginnyday

,

March 2007

CD in latin 8-)
1

unread

/ 1

sunny

,

November 2006

LibraryThing in Latin
3

unread

/ 3

boekerij

,

October 2006

LT language interface
5

unread

/ 5

Passer_Invenit

,

October 2006
This is a feature balloon