Abraham Lincoln & Lincolniana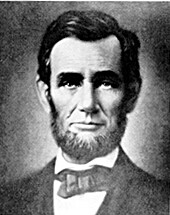 This group has become officially dormant. It happens. If you want to revive this group, or create a new group on the same topic
see this page
.
This is the place for readers who enjoy the study of Abraham Lincoln and the era in which he lived. NOT just the Civil War - though that's ok too - true Lincoln devotees are interested in every facet of the era. His family background, his "young love" with Anne Rutledge, his early business ventures, his career as a lawyer, Mary Todd Lincoln, the political career...

See - lots to read about!

And for members of the AL fan organization - aka The Abraham Lincoln Association - welcome!
TopicTopic
Messages
Last Message
Questions about this Group
2 unread / 2

Schneider

,

October 2014

Anyone reading anything 'new'?
4 unread / 4

libraryhermit

,

September 2014

Abraham Lincoln & Lincolniana Message Board
7 unread / 7

Collectorator

,

March 2012

What Lincoln book is most meaningful to you?
6 unread / 6

ncunionist

,

October 2010

A new post! Yea!!!
1 unread / 1

Schneider

,

July 2010

Lincoln-Douglas Debates
1 unread / 1

dh1515

,

May 2010

Reads
7 unread / 7

xieouyang

,

May 2010

Summer Readings
6 unread / 6

xieouyang

,

September 2009

Stephen A Douglas
5 unread / 5

captainrlm

,

July 2009

David Herbert Donald passes
2 unread / 2

estamm

,

May 2009

New titles
19 unread / 19

nbmars

,

April 2009

[Ruins of Empires] by [[Volney]]: Thomas Jefferson translated it, Abraham Lincoln read it--Why?
1 unread / 1

ThomasCWilliams

,

April 2009

Happy Birthday Mr. Lincoln!
4 unread / 4

Schneider

,

February 2009

Uncle Abe in the news (and other places)
3 unread / 3

nbmars

,

February 2009

Living in the Land of Lincoln
4 unread / 4

lilithcat

,

November 2008

What are you currently into? (05/30)
3 unread / 3

estamm

,

September 2008

Big names and new titles
2 unread / 2

jkeenley

,

June 2008

Anyone there?
20 unread / 20

Storeetllr

,

May 2008

Abraham Lincoln - In the news
4 unread / 4

estamm

,

May 2008

Interesting New Mary Tood Lincoln Book
1 unread / 1

cslbooks

,

August 2006

Lincoln Books Nominated for Quill Awards - be sure to vote by Sep 30!
1 unread / 1

cslbooks

,

August 2006
This is a feature balloon