Radical Theatre and Performance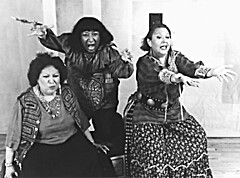 This group has become officially dormant. It happens. If you want to revive this group, or create a new group on the same topic,
see this page
.
A group for radical theatre and performance (theater, music, dance, performance art, storytelling...), performance practitioners, scholars, activists, students, and anyone else interested in using performance as tools for radical social justice, transformation, resistance, survival, and revolution.

Related Groups: African/African American Literature, All the World's a Stage, (Dis)ability Politics, First Nations/Native Literatures and Studies, Feminist Theory, genderqueer, GLBT History, Latin@ Library Thing, Lusty Ladies Who LibraryThing, PinoyThing! Queer and Trans Lit, radicalhistory, Resistance is Fertile!


This is a feature balloon