THE ANYTHING CULINARY BOOK GROUP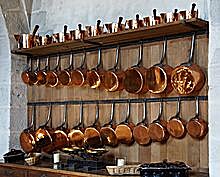 This group has become officially dormant. It happens. If you want to revive this group, or create a new group on the same topic,
see this page
.
Food is a magnet....It draws visitors to the kitchen, and readers to a book whether it is a cookbook with tremendous recipes, cozy mysteries with a talented cook, or a novel about a family eating in the dining room for a change. There are these books and more that surround the food we love and the food we hate.
This group is a place to discuss those books that have central characters that take us on a culinary adventure, whether it is real -- by teaching us how to cook the most magnificent soufflé -- or fictional by solving a mystery or taking care of a loved one with old-fashioned chicken soup.

Bring your cup of coffee or tea, have a sandwich or donut, sit down and have a chat. Tell everyone about the books you love because they sound so delicious. Bon Appétit!

TopicTopic
Messages
Last Message
culinary mysteries
27

unread

/ 27

LizPetty

,

July 2018

regional food
12

unread

/ 12

kitchenaglow

,

October 2015

What is your favorite Thanksgiving dish?
10

unread

/ 10

kitchenaglow

,

September 2015

Novels that feature food
18

unread

/ 18

abbottthomas

,

June 2014

Cooking Magazines
13

unread

/ 13

readwritethink2

,

July 2013

Pressure Cookers aka "hissers"
32

unread

/ 32

Thrin

,

November 2012

food in fiction
24

unread

/ 24

dajashby

,

July 2012

Your favourite kitchen gizmo
110

unread

/ 110

soniaandree

,

June 2012

Introductions!
74

unread

/ 74

aluvalibri

,

January 2012

'Foodie' social analysis book
11

unread

/ 11

SignoraEdie

,

October 2011

Cookbook Reviews
24

unread

/ 24

SignoraEdie

,

October 2011

food mysteries
6

unread

/ 6

readwritethink2

,

July 2011

cookie
1

unread

/ 1

jenniebooks

,

April 2011

Cooking the moisture-absorbing pack
7

unread

/ 7

varielle

,

February 2011

Crock Pot
5

unread

/ 5

BONS

,

January 2011

cake
1

unread

/ 1

jenniebooks

,

December 2010

Care of food preparation/cutting boards
11

unread

/ 11

kevmalone

,

November 2010

So what did you cook for Thansgiving 2010?
1

unread

/ 1

kevmalone

,

November 2010

Why Do We Read Cookbooks
9

unread

/ 9

thebeadden

,

November 2010

Great Foodie Blog
5

unread

/ 5

JonathanGorman

,

August 2010

Convection oven questions
6

unread

/ 6

cyderry

,

August 2010

Food biographies
12

unread

/ 12

cmbohn

,

July 2010

Spice Books??
14

unread

/ 14

sarahemmm

,

June 2010

Your most querky kitchen gizmo
4

unread

/ 4

Papiervisje

,

June 2010

food photography
1

unread

/ 1

jenniebooks

,

May 2010

Preserves
4

unread

/ 4

Booksloth

,

May 2010

curiosity
1

unread

/ 1

jenniebooks

,

May 2010

LOOKING: German Sauerkraut Soup
3

unread

/ 3

BONS

,

May 2010

What's cooking?
31

unread

/ 31

cmbohn

,

April 2010

Gourmet magazine closes
1

unread

/ 1

mstrust

,

November 2009

Fun with Food
2

unread

/ 2

mstrust

,

August 2009

I'm looking for recipies...
8

unread

/ 8

novelandmangacrazy

,

August 2009

Pumpkin Soup recipe
7

unread

/ 7

Sodapop

,

August 2009

What's in your garden?
6

unread

/ 6

mstrust

,

August 2009

seafood cookbooks?
7

unread

/ 7

tututhefirst

,

July 2009

non-fiction food?
5

unread

/ 5

luv2read97

,

July 2009

What's your favorite recipe?
8

unread

/ 8

cmbohn

,

April 2009

the Edible Series
1

unread

/ 1

lindapanzo

,

March 2009
This is a feature balloon