SF, horror and Fantasy Romance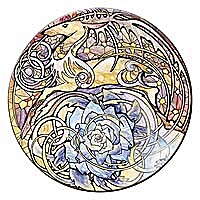 This group has become officially dormant. It happens. If you want to revive this group, or create a new group on the same topic,
see this page
.
Hey, why not. For those of us who enjoy Laurel K Hamilton, Catherine Asaro, Mercedes Lackey and others of that ilk

The image is from Stephanie Pui-Mun Law its actually from a Romance Role playing game by Green Ronin It's a detail piece from the cover of the book.
TopicTopic
Messages
Last Message
What is your fave book/author?
5

unread

/ 5

ofearna

,

July 2021

What are your favorite Urban Fantasy?
11

unread

/ 11

Katka_P

,

May 2021

Is there anybody out there?
7

unread

/ 7

anxovert

,

February 2021

horror stories of non western world
2

unread

/ 2

destiny13

,

November 2012

The Dead War Series: Book 1
3

unread

/ 3

amysisson

,

June 2012

Paranormal Romance Book Suggestions Needed
9

unread

/ 9

Robineliza

,

June 2012

Harlequin
9

unread

/ 9

icehockeymad1

,

June 2011

Read these books AND Win a Copy of Hunt the Moon
1

unread

/ 1

S.Alexander

,

April 2011

Fantasy Romance Series about sisters, Help Can't Remember
5

unread

/ 5

doelily18

,

August 2010

looking for name of vampire series
4

unread

/ 4

tonnegirl

,

January 2010

Can anyone recommend something like Kim Harrison's Rachel Morgan series without the Lesbian angle?
7

unread

/ 7

scrpo1027

,

September 2009

fav Laurell K. Hamilton's character?
9

unread

/ 9

Larissa.Sarah

,

September 2009

What are you reading?
19

unread

/ 19

Helcura

,

May 2009

Just got Belladonna
12

unread

/ 12

viciouslittlething

,

November 2008

Who are your favorite authors?
60

unread

/ 60

crazy-in-every-way

,

October 2008

Kim Harrison's Rachel Morgan series The Hollows
2

unread

/ 2

Helcura

,

August 2008

Anyone watch Moonlight? The new vampire show...
11

unread

/ 11

Wolfspirit

,

August 2008

Forth-Coming Books
21

unread

/ 21

Jenson_AKA_DL

,

October 2007

Lifetime and "Victory" Nelson
4

unread

/ 4

Jenson_AKA_DL

,

September 2007

Paranormal Chick-lit anyone?
3

unread

/ 3

emblue

,

September 2007

which series should I start reading?
7

unread

/ 7

rianoel

,

July 2007

New
12

unread

/ 12

ph8

,

June 2007

HBO & Sookie
3

unread

/ 3

cjlib

,

April 2007

Reviews anyone?
21

unread

/ 21

rianoel

,

March 2007

SF, horror and Fantasy Romance Message Board
61

unread

/ 61

Storeetllr

,

March 2007

If you could be your favorite "character" what "powers" would you possess?
1

unread

/ 1

Syntoria

,

February 2007

Happy Valentine's Day!
2

unread

/ 2

Jenson_AKA_DL

,

February 2007
This is a feature balloon