The Europe Endless Challenge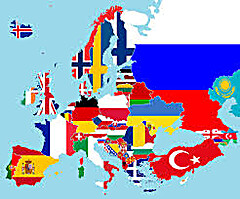 Reading your way through all countries in Europe!

Inspired by lindapanzo's Fifty States Challenge. This is a group for readers (from anywhere in the world) who want to read a work of non-fiction about, or a work of fiction set in each European country. Or both, if you want.

The rules (again, ripped off from the Fifty State Challenge):

1. read a work of fiction set (at least partially) in each country or a nonfiction book about each country;
2. books can be read in any order;
3. there is no time deadline, though you can set your own personal deadline if you'd like;
4. you can count books you've read starting in 2009 (but, if you'd rather, you can count books you've read in earlier years); and
5. have fun.

Hope to have a lot of you wanting to join in! Please feel free to start your own threads!


TopicTopic
Messages
Last Message
Pam's Trip to Europe
74 unread / 74

pamelad

,

December 2021

JustJoey's tour through Europe
82 unread / 82

Trifolia

,

November 2021

Tess' European Vacation via Reading
28 unread / 28

Tess_W

,

September 2021

Nickelini's European Reading Adventure
14 unread / 14

Tess_W

,

September 2021

Group Read?
3 unread / 3

Tess_W

,

August 2021

PawsforThought's Endless European Challenge
33 unread / 33

PawsforThought

,

December 2020

rocketjk's stroll through Europe
150 unread / 150

rocketjk

,

January 2020

Guanhumara is European!
3 unread / 3

Guanhumara

,

March 2018

Amsa´s reading thru Europe
2 unread / 2

rocketjk

,

January 2018

varielle's hitching through Europe
15 unread / 15

rocketjk

,

October 2017

Hanneri's Europe Endless Challenge
57 unread / 57

Hanneri

,

July 2017

RidgewayGirl's Interrail Pass
63 unread / 63

RidgewayGirl

,

January 2017

ANDORRA!!!!!??????
13 unread / 13

Indu.Eby

,

June 2016

Samantha_kathy's Trip Through Europe
49 unread / 49

Samantha_kathy

,

January 2016

Good Books from Obscure Places
23 unread / 23

starbox

,

September 2015

see too 'The Global Challenge'
1 unread / 1

starbox

,

September 2015

Ameise1 Europe Endless Challenge
49 unread / 49

Ameise1

,

September 2015

Read That, Been There ;-) * Europe *
5 unread / 5

EMS_24

,

January 2015

GingerbreadMan's Europe Endless Challenge
102 unread / 102

cbl_tn

,

January 2015

Marieke's arm chair travels through Europe
9 unread / 9

marieke54

,

December 2014

Cheli's European Adventures - 1 BOOK AT A TIME
35 unread / 35

cyderry

,

August 2014

thornton37814's European Vacation - Part II.
43 unread / 43

thornton37814

,

September 2013

Rosa_Saks' European Tour
72 unread / 72

Rosa_Saks

,

August 2013

Clfisha's Endless European Excursion
29 unread / 29

clfisha

,

June 2013

Wolfy's European Mystery Tour
44 unread / 44

AHS-Wolfy

,

May 2013

CBL's European journey
160 unread / 160

cbl_tn

,

March 2013

VivienneR's European journey
173 unread / 173

VivienneR

,

February 2013

Freckles1987 meanders through Europe...
3 unread / 3

clfisha

,

January 2013

List of Fiction Books by European Setting
48 unread / 48

Samantha_kathy

,

January 2013

Andrew's European Challenge
7 unread / 7

VivienneR

,

December 2012

Annie goes to Europe with Novels
6 unread / 6

AnnieMod

,

December 2012

Where are you, part two
79 unread / 79

VivienneR

,

December 2012

CMBohn in Europe
35 unread / 35

cmbohn

,

December 2012

pbadeer's European Book Tour
66 unread / 66

pbadeer

,

September 2012

thornton37814's European Vacation
97 unread / 97

thornton37814

,

July 2012

List of European Authors by Country of Birth
16 unread / 16

Samantha_kathy

,

May 2012

Nans travels to Europe
44 unread / 44

cbl_tn

,

February 2012

lsg's European challenge
1 unread / 1

lsg

,

January 2012

Bekka's attempt at Europe...
9 unread / 9

BekkaJo

,

January 2012

AuntMarge64's Arm Chair Travels - Europe
40 unread / 40

auntmarge64

,

December 2011

Paul's reading 'round the world: Europe
2 unread / 2

Trifolia

,

November 2011

Eur Crazy! HRO Travels Through Europe
9 unread / 9

Her_Royal_Orangeness

,

August 2011

MerryO's Grand Europe Tour
7 unread / 7

MerryO

,

August 2011

Yxvandoolu's Reading trip across Europe
8 unread / 8

Yxvandoolu

,

August 2011

Cushla's adventures in Europe
13 unread / 13

cushlareads

,

July 2011

Lisa loves lists! European lit explored
6 unread / 6

labfs39

,

January 2011

Not quite as good as backpacking through Europe
17 unread / 17

tophats

,

December 2010

sjmccreary finally goes to Europe
42 unread / 42

sjmccreary

,

December 2010

Primlil's Grand Tour of Europe - an ongoing saga
3 unread / 3

primlil

,

November 2010

Genny's European Literary Travels
8 unread / 8

cushlareads

,

November 2010

Scorbet's Trek through Europe
3 unread / 3

Scorbet

,

August 2010

MikeBriggs, European Traveler, Through Books
6 unread / 6

MikeBriggs

,

August 2010

New Global Challenge Group
6 unread / 6

fmgee

,

August 2010

LadyAredhel's Exploration of Europe
3 unread / 3

Trifolia

,

June 2010

The helpdesk
22 unread / 22

Trifolia

,

June 2010

Steven03tx's European Trek
7 unread / 7

StevenTX

,

May 2010

Dragonfly310's Flight through Europe
10 unread / 10

Dragonfly310

,

May 2010

Miela's European Sojourn
3 unread / 3

Miela

,

April 2010

Trinah's European Trip
4 unread / 4

GingerbreadMan

,

March 2010

Where are you now?
80 unread / 80

cmbohn

,

February 2010

lindapanzo's European travels
14 unread / 14

cmbohn

,

January 2010

Dragonfly310's flight through Europe
1 unread / 1

Dragonfly310

,

October 2009

GFI visits the neighbourhood :-)
2 unread / 2

GirlFromIpanema

,

September 2009

Europe by Book-Train! (calm in europe)
31 unread / 31

GirlFromIpanema

,

September 2009

LauraBrook's Endless Europe Challenge
8 unread / 8

LauraBrook

,

September 2009

Annie in Europe
7 unread / 7

GirlFromIpanema

,

September 2009

let's go european yosarian
8 unread / 8

RidgewayGirl

,

August 2009
This is a feature balloon