GLBT Libraries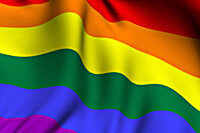 This group has become officially dormant. It happens. If you want to revive this group, or create a new group on the same topic,
see this page
.
This group is for anyone involved with a library that specifically collects or is interested in the GLBT community. If you work in or volunteer in your local GLBT library you should join this group. It is the group for anyone who LTs in GLBT libraries.

I'm hoping we can use this site to help build our collections by sharing information and trading duplicates.

Let's share information about library promotion and usage.

If you are using FaceBook or other social networking sites to promote your library share that info with us.

Help keep the GLBT library community strong by joining this group.


TopicTopic
Messages
Last Message
LET'S REVIVE THIS GROUP
5

unread

/ 5

aspirit

,

March 2021

Where the heck do you put David Sedaris?
2

unread

/ 2

aspirit

,

September 2020

TinyCat/Small Libraries Survey
1

unread

/ 1

kristilabrie

,

February 2016

Book Swap
1

unread

/ 1

Eastern_PR

,

October 2015

Collection policies and severely overdue books
3

unread

/ 3

ChrisGonzalezLibrary

,

December 2014

XXX video and DVD collections
8

unread

/ 8

ChrisGonzalezLibrary

,

May 2014

Need some help/advice
8

unread

/ 8

ChrisGonzalezLibrary

,

May 2014

Anyone out there? Anyone working with an LGBT thesaurus/list of tags for describing your books?
7

unread

/ 7

ChrisGonzalezLibrary

,

May 2014

Which Library's records do you use?
3

unread

/ 3

GayCityLGBTLibrary

,

March 2014

Specialized organization
5

unread

/ 5

gws-uw

,

August 2013

Archives, Libraries, Museums and Special Collections -An international LGBT Conference
15

unread

/ 15

TomofFinland

,

April 2013

funding
2

unread

/ 2

iuglbtlibrary

,

December 2012

Tracking Visitors to my LT page?
5

unread

/ 5

andrewsp

,

December 2012

David Laurents/Lawrence Schimel
1

unread

/ 1

aulsmith

,

September 2012

Library of Congress #s
12

unread

/ 12

drew_drake

,

August 2012

greetings
9

unread

/ 9

drew_drake

,

August 2012

Equality Libraries Serving Everyone (ELSE) - Community based LGBT libraries.
4

unread

/ 4

LibraryRCDallas

,

January 2012

Pride Community Libraries - New Facebook Page
1

unread

/ 1

LibraryRCDallas

,

October 2011

Cataloging/shelving 'old but interesting' materials
11

unread

/ 11

LibraryRCDallas

,

August 2011

CenterLink Leadership Conference - Milwaukee/September 22-24
2

unread

/ 2

GLCC

,

August 2011

Searching for a lost book
2

unread

/ 2

LibraryRCDallas

,

April 2011

blog space for us
4

unread

/ 4

e-zReader

,

April 2011

Rare books
3

unread

/ 3

ChrisGonzalezLibrary

,

March 2011

Leaving a Legacy
5

unread

/ 5

ChrisGonzalezLibrary

,

March 2011

Hello!
4

unread

/ 4

aulsmith

,

March 2011

Book Give Away
3

unread

/ 3

aulsmith

,

March 2011

[Black Out] by John Lawton
1

unread

/ 1

GLCC

,

February 2011

New Members for our group
1

unread

/ 1

GLCC

,

January 2011

New Members for our group
1

unread

/ 1

GLCC

,

January 2011

One of our very own ...
2

unread

/ 2

e-zReader

,

November 2010

GLBT ALMS Conference 2010?
9

unread

/ 9

GLCC

,

November 2010

Looking for donations
2

unread

/ 2

GLCC

,

August 2010

Circulation
2

unread

/ 2

LibraryRCDallas

,

August 2010

Lambda Literary Awards - May 27, 2010
2

unread

/ 2

LibraryRCDallas

,

July 2010

The Lost Library
1

unread

/ 1

GLCC

,

January 2010

The 2010 Lammy Awards
1

unread

/ 1

GLCC

,

January 2010

Lambda Rising in DC is closing
1

unread

/ 1

GLCC

,

December 2009

GLCC Library on Out TV
1

unread

/ 1

GLCC

,

November 2009

ALA's Rainbow List
1

unread

/ 1

PamelaEhrenberg

,

November 2009

GLCC library on FaceBook
1

unread

/ 1

GLCC

,

November 2009

ICOLC
4

unread

/ 4

mcc.library

,

November 2009

GLCC Pittsburgh - update
1

unread

/ 1

GLCC

,

November 2009

in scope for GLBT libraries
4

unread

/ 4

GLCC

,

October 2009

Flash-mob cataloging group
1

unread

/ 1

GLCC

,

October 2009

duplicates to give away
4

unread

/ 4

PortiaLong

,

October 2009
This is a feature balloon