Picture books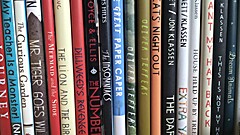 This group has become officially dormant. It happens. If you want to revive this group, or create a new group on the same topic,
see this page
.
Picture books are a child's first view of the world of reading. They include artwork by some of the best illustrators in the world, transporting the suburban western toddler to China, outer space, jungles, the 19th century, or primary-coloured worlds where mice make cakes with the assistance of chickens, for the birthday party of a squirrel. And it all makes perfect sense.

Illustrators and authors covered by this group include Quentin Blake, Shirley Hughes, Helen Oxenbury, Mick Inkpen (surely the best ever name for an illustrator?), Lauren Child, Eric Carle, Lucy Cousins, Mo Willems, and Doctor Seuss, but of course there are thousands more names we could add.
TopicTopic
Messages
Last Message
Quentin Blake
1

unread

/ 1

Cynfelyn

,

December 2021

Children in Trauma Bibliography
2

unread

/ 2

MeganMcCaffrey

,

December 2021

Best of 2021
2

unread

/ 2

2wonderY

,

December 2021

The Three Little Pigs
50

unread

/ 50

2wonderY

,

August 2021

New Picture Books
2

unread

/ 2

spiralsheep

,

June 2021

What is it about Helen Ward?
19

unread

/ 19

fuzzi

,

May 2021

Books about whales
12

unread

/ 12

nrmay

,

May 2021

Favorite/best contemporary picture books
22

unread

/ 22

AlliCatCA

,

November 2019

Is there a name for this landscape story technique?
10

unread

/ 10

2wonderY

,

November 2019

Roberto Innocenti
4

unread

/ 4

2wonderY

,

October 2019

eek!
22

unread

/ 22

2wonderY

,

September 2019

Stephen Gammell
18

unread

/ 18

2wonderY

,

August 2019

The Town Mouse and the Country Mouse
31

unread

/ 31

2wonderY

,

August 2019

endpapers in children's picture books
8

unread

/ 8

amysisson

,

April 2019

Christmas books!
5

unread

/ 5

2wonderY

,

January 2019

Nature illustrations
1

unread

/ 1

2wonderY

,

January 2019

Contemplating Caldecott Contenders
8

unread

/ 8

MinuteMarginalia

,

January 2018

Sophy Williams
1

unread

/ 1

2wonderY

,

January 2018

Jenny's picture book list
22

unread

/ 22

jennyifer24

,

July 2017

Victor Ambrus, in all his incarnations
7

unread

/ 7

2wonderY

,

December 2016

metafiction in picture books
5

unread

/ 5

2wonderY

,

October 2016

Maggie Downer
2

unread

/ 2

Scarlet_Kleen

,

October 2016

Illustration styles
1

unread

/ 1

2wonderY

,

September 2016

"minimal realism" illustration style
1

unread

/ 1

2wonderY

,

September 2016

New list of potential interest
3

unread

/ 3

aydenrl

,

July 2016

Street Safety
3

unread

/ 3

KarenElissa

,

February 2016

Coyote and other multicultural folktales
1

unread

/ 1

brodiew2

,

December 2015

Brodie's Read Aloud Favorites
1

unread

/ 1

brodiew2

,

December 2015

Silhouette illustration
15

unread

/ 15

2wonderY

,

February 2015

Whisper1 (Linda) Thread #1 of illustrated books read in 2015
2

unread

/ 2

2wonderY

,

February 2015

James Gurney
1

unread

/ 1

2wonderY

,

November 2014

New Releases in Picture Books
9

unread

/ 9

hannahchristine

,

October 2014

web reviews of picture books
2

unread

/ 2

2wonderY

,

April 2014

LibraryThing Mock Caldecott
1

unread

/ 1

foggidawn

,

August 2012

question - "scary" illustrations
1

unread

/ 1

selma1

,

January 2012

Text or picture
2

unread

/ 2

2wonderY

,

November 2011

I'm looking for a book - help please
3

unread

/ 3

theapparatus

,

July 2011

What recent picture books should I read?
5

unread

/ 5

SharleneWeingart

,

March 2011

picture books about football
7

unread

/ 7

ZoeToft

,

April 2010

Illustrator's Workshop
3

unread

/ 3

JDHoliday

,

October 2009

Boy with a Watermelon Patch
1

unread

/ 1

lorilou

,

October 2008

Favorite picture books/authors
7

unread

/ 7

Sodapop

,

June 2008

Ann Jonas/Reversible Books
1

unread

/ 1

pbremer

,

March 2008

New Group: Multicultural books for children
1

unread

/ 1

farmershat

,

January 2008

Help me name these books!
9

unread

/ 9

sunny

,

July 2007

Picture books Message Board
8

unread

/ 8

GeniAus.

,

August 2006
This is a feature balloon