The Hunger Games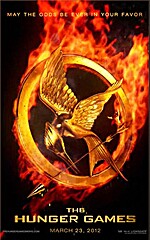 This group has become officially dormant. It happens. If you want to revive this group, or create a new group on the same topic,
see this page
.
The Hunger Games by Suzanne Collins.
People! We need more conversation here!!!
Anyone new to this group, or a new poster who is an old member, please first introduce yourself on the welcome page.
TopicTopic
Messages
Last Message
Ballad of Songbirds and Snakes - May Contain Spoilers
1

unread

/ 1

gilroy

,

February 2021

Poems
24

unread

/ 24

SkyBlueBoss333

,

March 2020

Life in the Capitol
17

unread

/ 17

Chris123th

,

September 2017

~Welcome to the Hunger Games~
146

unread

/ 146

CindarHarrell

,

August 2016

Quiz: Test Your Knowledge
2

unread

/ 2

Junmingg

,

December 2015

What is it about the Hunger Games that you like the most?
187

unread

/ 187

draco16

,

May 2014

Hunger Games Will Be Four Films
11

unread

/ 11

Shakti_Taneja

,

March 2014

Poems
1

unread

/ 1

DownwiththeCapitol

,

January 2014

Poems
1

unread

/ 1

DownwiththeCapitol

,

January 2014

Nightlock
1

unread

/ 1

DownwiththeCapitol

,

January 2014

20 questions
64

unread

/ 64

Rose_Weasley

,

November 2013

YA film adaptations you shouldn't miss!!!
1

unread

/ 1

tobbybm

,

September 2013

Hangman
75

unread

/ 75

hyper13

,

August 2013

~Chat~
152

unread

/ 152

luna_lovegood

,

April 2013

the end of mockingjay
20

unread

/ 20

luna_lovegood

,

March 2013

Snow or Coin (Only for Those who have Finished Mockingjay)
21

unread

/ 21

luna_lovegood

,

February 2013

If you like the Hunger Games, you will definitely like these books.
24

unread

/ 24

hyper13

,

February 2013

Mockingjay with spoilers
4

unread

/ 4

hyper13

,

February 2013

If YOU were casted....Prim vs. Rue
21

unread

/ 21

hyper13

,

February 2013

The Cornucopia: What would you want?
11

unread

/ 11

luna_lovegood

,

February 2013

Join my group!
5

unread

/ 5

luna_lovegood

,

February 2013

Is there any way that HG could really happen?
21

unread

/ 21

luna_lovegood

,

February 2013

Gale or Peeta?
175

unread

/ 175

hyper13

,

February 2013

Hunger Games Rhyming Game
21

unread

/ 21

luna_lovegood

,

February 2013

Favorite quotes/saying from T.H.G.
13

unread

/ 13

luna_lovegood

,

February 2013

Who is your favorite character in the book?
138

unread

/ 138

luna_lovegood

,

February 2013

Beautiful Creatures (spoilers)
1

unread

/ 1

luna_lovegood

,

February 2013

Which district would you like to live in?
23

unread

/ 23

luna_lovegood

,

February 2013

foxface
1

unread

/ 1

luna_lovegood

,

February 2013

Hunger Games Movie: True to the book?
12

unread

/ 12

luna_lovegood

,

February 2013

Fan Art
14

unread

/ 14

justjukka

,

August 2012

You know you're addicted to the Hunger Games series when...
63

unread

/ 63

HannaMeads

,

August 2012

Rue's Death
24

unread

/ 24

sarahy

,

August 2012

A tribute to Katniss Everdeen
1

unread

/ 1

belladergloomyface

,

August 2012

Where Did We All Go? + Hunger Games Movie Tickects Now AVAILABLE!!!
2

unread

/ 2

sarahy

,

February 2012

Thought you all might like to know. . .
17

unread

/ 17

Mariah7

,

September 2011

Teaser Trailer
1

unread

/ 1

Mariah7

,

August 2011

Audio Book vs Book
3

unread

/ 3

sarahy

,

August 2011

Anyone Read Suzane's Other Books?
5

unread

/ 5

sarahy

,

August 2011

Mockingjay
156

unread

/ 156

sarahy

,

August 2011

OMG...THEY'RE GONNA MAKE A MOVIE....?
86

unread

/ 86

sarahy

,

August 2011

Gale and Peeta
3

unread

/ 3

Caryn.Rose

,

August 2011

Hunger Games Movie Cast?
193

unread

/ 193

Mariah7

,

July 2011

76th Annual Hunger Games
3

unread

/ 3

swimfreak14

,

May 2011

Hunger Games or Catching Fire?
68

unread

/ 68

HannaMeads

,

April 2011

Spoiler Section
56

unread

/ 56

HannaMeads

,

April 2011

Countdown page
221

unread

/ 221

HannaMeads

,

April 2011

Movie Info
9

unread

/ 9

HannaMeads

,

April 2011

The Hunger Games is the awsomest futurestic novel I ever read!
12

unread

/ 12

jrg1316

,

April 2011

The Hunger Games Movie.... (will it be any good?)
7

unread

/ 7

swimfreak14

,

April 2011

The Movie
6

unread

/ 6

jrg1316

,

March 2011

Prim's
6

unread

/ 6

Katniss_Mellark

,

March 2011

Hunger Games Soundtrack
2

unread

/ 2

93_Diagon_Alley

,

March 2011

Mockingjay.net/Jabberjays Podcast
1

unread

/ 1

BookLover287

,

September 2010

Suzanne Collins makes the 2010 Time 100 list
76

unread

/ 76

FantasyGirl2

,

May 2010

Hunger Games Movie Cast?
1

unread

/ 1

anniegrace720

,

May 2010
This is a feature balloon