MemberMartinLutherKingJr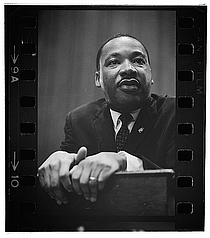 Books

613

Collections

Tags

Clouds

Media

Joined

Feb 2, 2016
Real Name

Dr. Martin Luther King, Jr.

About My Library

The books included here are those in the Morehouse College Martin Luther King Jr. Collection, held at the Archives Research Center of the Robert W. Woodruff Library. See the

Book Listing

for information about accessing the collection. The books reportedly contain Dr. King's handwritten annotations, though these are not noted in the listing.

About Me

Dr. Martin Luther King, Jr. (15 January 1929–4 April 1968), Baptist minister and leader in the American civil rights movement.
Member Connections
Friends
This site uses cookies to deliver our services, improve performance, for analytics, and (if not signed in) for advertising. By using LibraryThing you acknowledge that you have read and understand our
Terms of Service and Privacy Policy
. Your use of the site and services is subject to these policies and terms.