Memberbacchus.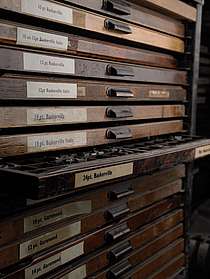 Collections

Tags

Folio Society (90), Slightly Foxed (19), Πανεπιστημιακές Εκδόσεις Κρήτης (17), Letterpress (10), Limited Editions Club (9), Εκδόσεις Κάκτος (8), Μορφωτικό Ίδρυμα Εθνικής Τραπέζης (6), Ίδρυμα Μανώλη Τριανταφυλλίδη (6), Discworld (6), Εκδόσεις Καζαντζάκη (6), Ακαδημία Αθηνών (5), Ίκαρος (4), Gollancz (4), Εκδόσεις Καστανιώτη (4), Notting Hill Editions (4), Programming (3), Penguin (3), Plain Foxed Editions (2), Εκδόσεις Αλμύρα (2), αλφάδι (2), Εκδόσεις Σταφυλίδη (2), No Reply Press (2), Houghton Mifflin Company (2), Gutenberg (2), Folio Society LE (2), Thames & Hudson (1), ΟΕΔΒ (1), Progress Publishers Moscow (1), Μοχλός (1), Εκδόσεις ΣΤΑΧΥ (1), ΒΗΜΑ (1), Headline (1), Grove Press (1), Κ. Επιφανίου (1), Verso (1), Amaranthine Books (1), Heritage Press (1), Officina Bodoni (1), PublicAffairs (1), Easton Press (1), Εκδόσεις Άγρα (1), Μεταίχμιο (1), Prototype Press (1), Cyprus (1), LEC (George Macy) (1), Στιγμή (1), Δαίδαλος (1)

Clouds

Media

Groups

Joined

Dec 22, 2017
About My Library

We have books whose papers are matted of plants from which spring curious alkaloids, so that the reader, in turning their pages, is taken unaware by bizarre fantasies and chimeric dreams. Books whose pages are not paper at all, but delicate wafers of white jade, ivory, and shell; books too whose leaves are the desiccated leaves of unknown plants. (…) There is a cube of crystal here—though I can no longer tell you where—no larger than the ball of your thumb that contains more books than the library itself does.

Memberships

Currently Reading

Favorite Lists
Member Connections
Interesting Library
This site uses cookies to deliver our services, improve performance, for analytics, and (if not signed in) for advertising. By using LibraryThing you acknowledge that you have read and understand our
Terms of Service and Privacy Policy
. Your use of the site and services is subject to these policies and terms.